The seventh annual BAYADA Day in Harrisburg on Tuesday, April 8, was attended by more than 170 BAYADA Home Health Care employees and clients from across Pennsylvania. The celebration included a press event on the steps of the capitol rotunda with the presentation of the first annual BAYADA Home Health Care Champion awards for Pennsylvania to Senator Patricia Vance, Representative Marguerite Quinn, and Secretary of Aging Brian Duke. This new award recognizes state legislators and regulators who have worked diligently to advocate for increased funding and support for home health care services in the Commonwealth.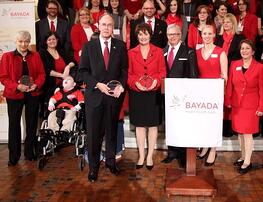 Throughout the day, BAYADA employees met with legislators to garner support for increases to Medicaid reimbursement for home health care services. Three areas in dire need of increases to recruit and retain the caliber of caregivers needed to provide quality care for medically-fragile citizens are: in-home pediatric nursing care, home and community-based services waiver rates for personal care assistance and nursing services, and adult home health nursing and therapy services.
"There are medically fragile children, adults, and seniors throughout Pennsylvania who need quality care to remain safe at home," said Chief Government Affairs Officer Dave Totaro. "With fair rates, more Pennsylvanians can receive home health care services, which is a cost-effective and patient-preferred alternative to a facility setting. We look forward to continuing our work with state legislators on this issue."
The highlight of the day featured Bethanne Sellers, the mother of one of BAYADA's clients, who spoke about how home health care has improved the quality of life for her daughter, Lilly, who has Muscular Dystrophy, and their family as a whole. She said that home nursing "decreased exponentially" Lilly's school absences and hospitalizations and, perhaps just as importantly, it has allowed the Sellers family "to be a family."
"At first, I thought there was no way we would want home health care for Lilly. In hindsight, I question how we ever survived without it," shared Sellers. She believes all families with medically fragile children have "the right to have home health care services provided to us by the best possible people."
Founded in 1975 by J. Mark Baiada, BAYADA Home Health Care provides nursing, rehabilitative, therapeutic, hospice, and assistive care services to children, adults, and seniors in the comfort of their homes. Headquartered in suburban Philadelphia, BAYADA employs more than 18,000 nurses, home health aides, therapists, medical social workers, and other home health care professionals who serve their communities in 22 states from more than 280 offices. For more information, visit www.bayada.com.