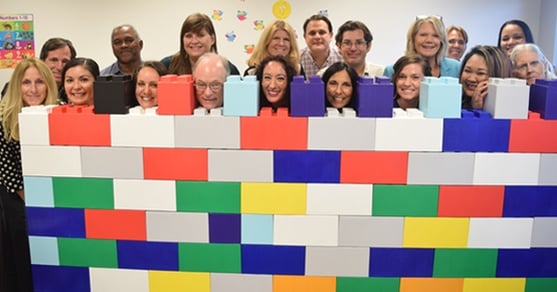 BAYADA President and Founder Mark Baiada (4th from left) joined BAYADA staff for the grand opening of the new Center-Based Services Program serving individuals with autism and other developmental disabilities
Walk onto the second floor of the office building at 427 Ala Makani Street in Kahului, Maui and you'll be greeted by more than 1,500 square feet filled with brightly colored floor mats, over-sized Legos, a trampoline, a teepee, bean bag chairs, crayons, puzzles, books, balls, and blocks.
At first glance, this warm, inviting space may seem like the back drop for a typical day care center, but upon closer look, you'll discover it is so much more. It's all part of the Maui Center-Based Services program developed by BAYADA Home Care, a non-profit organization that provides behavioral health services throughout Hawaii. The new center uses an evidence-based approach called applied behavior analysis (ABA) to treat individuals with autism and related learning or social disorders.
Last week, Hawaii State Representatives Elle Cochran and Lynn DeCoite; Executive Assistant in the Office of the Mayor Mike Molina; representatives from the Department of Education; staff from local non-profits such as the Easter Seals and Best Buddies; behavioral health professionals, families of those with autism, BAYADA President and Founder Mark Baiada, and Chairman of the Board of BAYADA Home Care Mel Baiada gathered for the grand opening celebration of the new center.
The event began with a blessing conducted by Uncle Kimokeo. Then, as nearly 100 people looked on, Mark Baiada and Mel Baiada joined Center Director Eliza Lipp for the official ribbon-cutting ceremony, marking a new era in care for individuals with autism.
According to Lipp, ABA therapy addresses social, communication, behavioral, and self-help skills. In 2015, Hawaii passed a law requiring state-regulated insurance plans to cover ABA therapy. This law played a significant role in the opening the new center, bringing much-needed support to Maui residents who need these services
"The new center is designed to complement one-on-one home-based ABA services provided by behavioral health technicians," said Lipp. "In the center, children have the unique opportunity to build skills and interact with others in a fun, welcoming environment. In addition, the center offers a structured setting designed for ABA treatment, and increased oversight by a BAYADA Board Certified and Licensed Behavioral Analyst®."
Depending on the age and ability of each individual, the earliest portions of ABA services focus on basic verbal and non-verbal communication as tools for learning readiness, including increasing and improving:
Communication
Participation in daily activities
Eye contact
Play skills
Social engagement
Prior to cutting the ribbon, Mark Baiada shared his congratulations to everyone involved with bringing the center-based services project to fruition.
"Through your advocacy, persistence, feedback and cooperation, BAYADA can now provide ABA services to more families impacted by autism in Maui and across Hawaii," he said. "This center marks a new milestone in BAYADA's history. Our vision has always been to make it possible for millions of people worldwide to experience a better quality of life. We believe that the services we provide here in the center, and the relationships we build here in the community will help us to make that vision possible. The skills our clients will gain in this center will enable them to have a safe home life with confidence, independence and success. We look forward to serving you with compassionate, excellent, and reliable center-based services. Thank you for joining us today and thank you to our employees whom we believe are our greatest asset and continue work with a universal spirit of faith, hope and love in Hawaii."
To learn more about services for individuals with an ASD, call BAYADA at 808-244-6879.