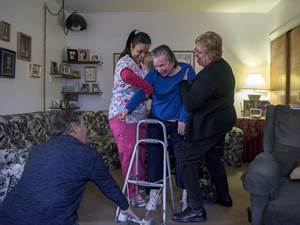 BAYADA client Kathy Pollock depends on care from her beloved home health aide Lucy Villalona, left, whose services are reimbursed by Medicaid – Photo: Joe Lamberti, Courier-Post
Kim Mulford, staff writer for South Jersey's Courier-Post, reports on the dire need for increased Medicaid funding of home care services affecting recipients of all income levels and their home health aides.
"The problem is, New Jersey hasn't allocated enough money to support its Medicaid program," said BAYADA Home Health Care Chief Government Affairs Officer David Totaro.
Read more at here.
Register with BAYADA Hearts for Home Care to speak up for better reimbursement rates.