BAYADA Home Health Care, a trusted leader in providing clinical care and support services at home for children and adults of all ages, interviewed more than 100 prospective employees at an Open House on Saturday, January 20 and Sunday, January 21 at the San Juan Marriott Resort to learn about employment opportunities for Puerto Rico-based nurses impacted by Hurricane Maria.
BAYADA identified 26 prospective nurses to fill open home health care nursing positions in Minnesota which includes four administrative offices that serve approximately 100 children and adults.
The widespread devastation caused by Hurricane Maria has resulted in the loss of employment for many highly-skilled nurses who live in Puerto Rico. At the same time, a home health nursing shortage across the U.S. means many children and adults are unable to get the nursing care they need and that hospitalized patients who need home care as a requirement for discharge are staying in the hospital three to six months longer than necessary. This shortage is the result of a variety of factors, including increased demand due to an aging population and low home health care reimbursement rates that directly impact nursing wages.
"Over the past several months, we have heard many stories of qualified, highly-skilled nurses in Puerto Rico who are out of work due to the destruction caused by Hurricane Maria, and have resorted to taking jobs in entirely unrelated fields to simply provide for their families," said David Baiada, CEO, BAYADA Home Health Care. "We have also been acutely aware of the families across the nation who are unable to get the nursing care they need due to the current nationwide home nursing shortage, a problem that is expected to intensify over the next several years."
In December 2017, to address both of these urgent needs, BAYADA Minnesota Pediatrics Associate Director Frances Fernandez, a native of Puerto Rico, suggested BAYADA implement a Facebook ad campaign seeking qualified candidates to relocate to Minnesota. The campaign yielded more than 400 responses in five days. The overwhelming response led BAYADA leadership to the decision to conduct an on-site recruitment event in San Juan. The goal was to recruit at least 25 nurses to move to Minnesota for at least one year to earn a competitive salary and support loved ones back home.
"The tremendous response we received to our initial recruitment efforts in Puerto Rico convinced us that hosting an Open House would likely yield dozens of candidates for whom nursing is a career and a calling," continued Baiada. "Not only did we meet our goal, but we exceeded it, and as a result hope to provide dozens of talented nurses with temporary relief from this ordeal, along with the ability to send resources back to their families in Puerto Rico over the next several months."
In exchange for a commitment to joining the BAYADA team for 12 to 18 months, nurses who relocate from Puerto Rico to Minnesota will receive compensation and benefits on par with those currently being offered to employees in the state. BAYADA will also cover the cost of airfare, provide thirty days of free housing and offer a mentor who will help acclimation to the region and the role, among other employee-centric support benefits.
"From a father who volunteered his time to saving lives in remote areas of the island immediately following Hurricane Maria, to a single mother who traveled two hours to interview with the hopes of providing a new opportunity to her two daughters – we met so many resilient nurses who are eager to get back to work in the field they love," said Fernandez. "We look forward to welcoming these men and women, and many of their families, to Minnesota and we are doing everything we can to ensure they enjoy a smooth transition into our community, including the assistance of a stable and reliable support system of fellow BAYADA employees, friends and neighbors."
This focus on the individual employee is in line with BAYADA's legacy and reputation of going to great lengths to create a company culture that perpetuates the company mission, also known as The BAYADA Way®. The commitment to clients and employees results in a team that truly "loves what they do" and enjoys competitive pay and benefits; access to in-depth training and continuing education programs; flexible scheduling options; accelerated leadership opportunities; and the stability that comes along with working for an industry leader that recently began the transition into a nonprofit, to ensure the company is never sold and the mission continues for generations to come.
Learn more about job opportunities at BAYADA.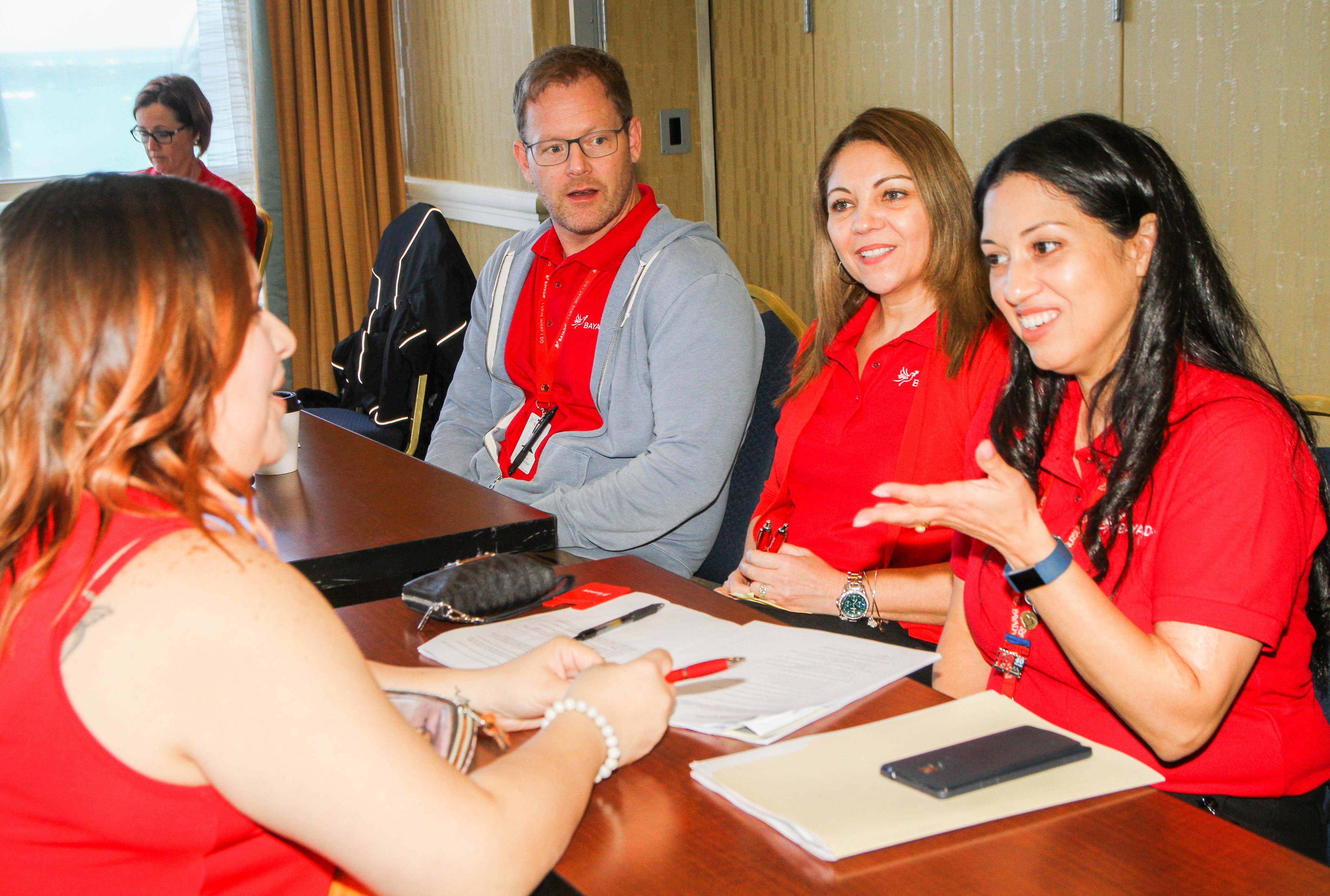 BAYADA Clinical Managers Kevin Jacobson, Cookie Sanchez, and Marari Singh interview a candidate for a nursing position during the recruitment event in San Juan, Puerto Rico.