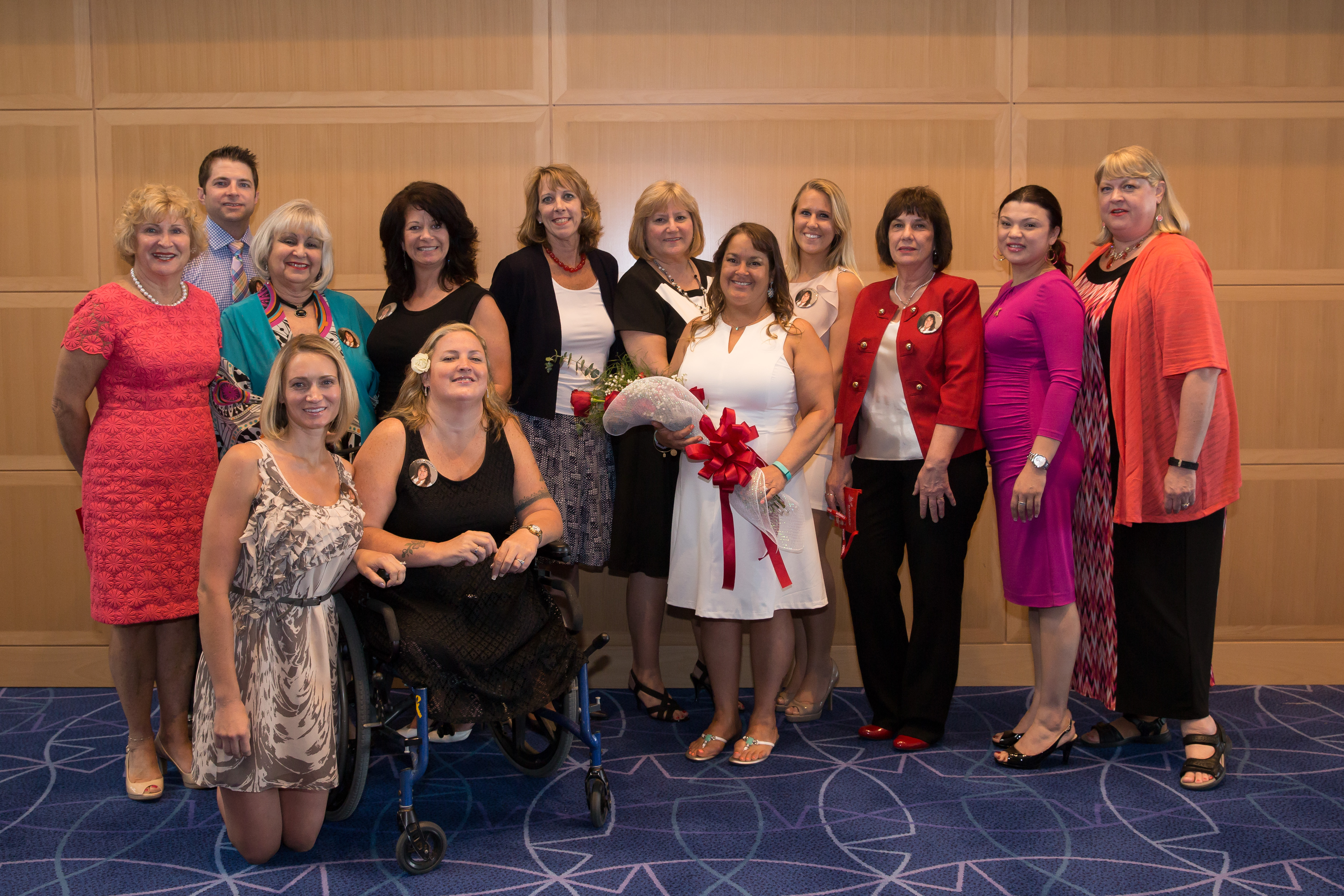 Pictured during the BAYADA Home Health Care annual awards meeting in Charlotte, NC are, front, l to r, CHHA Jennifer Stewart and Maureen Buscher; back, l to r, Clinical Manager Donna Swiderski, Clinical Manager Duston Brown, Clinical Manager Sondra Mandel, CHHA Ginny Dibona, Director Maryann Prudhomme, Client Services Manager Sharon Disely, Home Health Aide Hero of the Year Regina Derby, Client Services Manager Lauren Starek, Client Services Manager Janice Bucknam, Administrative Coordinator Sylvia Alfaro, and Clinical Manager Jacqueline Callahan.
Certified Home Health Aide Regina Derby was recently chosen from more than 19,000 home health care professionals as the BAYADA Home Health Care Home Health Aide Hero of the Year. Derby received this prestigious honor for exemplifying the highest standards of care and demonstrating the company's core values of compassion, excellence, and reliability. BAYADA President and Founder Mark Baiada presented Derby with the Hero award in front of thousands of attendees during the company's annual awards ceremony on May 17 in Charlotte, NC.
"Every day I do my job and I just want my client to get better. I never expected any kind of recognition," Derby shared. "Receiving the Hero of the Year Award was an experience like no other. I could not have dreamed of a better day. I was amazed. I will probably talk about it for the rest of my life."
For three years, Derby has provided care for Maureen Buscher, 46, who is blind, has a traumatic brain injury, and has suffered amputations above the knee. The client's team of six certified home health aides (CHHAs) work 12-hour shifts and do everything from housekeeping, pet care, shopping, and arranging physician and physical therapy visits. In addition to Derby, Buscher's team includes Ginny Dibona, Jessica Eccles, Jennifer Stewart, and Kathleen Taylor.
When Buscher was unable to fit into her prosthetic legs due to a gradual weight gain, Derby helped obtain a special computer for the blind so Buscher could join Weight Watchers. What's more, Derby took a leadership role, making sure all of the CHHAs on Buscher's team were on the same page with shopping, cooking, and using the computer to track her progress. Thanks to Derby's encouragement, Buscher resumed therapy and embraced her new lifestyle, shedding 48 pounds in the process!
"Regina set a date for Maureen to walk, not wheel herself into a Weight Watchers meeting," shared BAYADA Clinical Manager Sharon Disley. "When that day came, Regina arranged for representatives from Weight Watchers, Maureen's entire team of CHHAs, and her BAYADA office staff to attend. When Maureen walked in using her prosthetic legs, the entire room erupted in applause!"
BAYADA Clinical Manager Jacqueline Callahan, RN oversees all aspects of Buscher's care. "We can't change what occurred to cause Maureen's disabilities, but with a team effort, working as a whole, our compassion and reliability can truly shine through," she said. "One client can have many caregivers, but it is the person who takes the lead, like Regina, who can affect the dynamic of how that client's life is preserved."
Buscher was thrilled to learn that the CHHA who has become such an important part of her life received national recognition. "Regina is so deserving of this award. She is my hero because she is wonderful and she is determined to help me meet my goals," Buscher shared. I love her like a sister and I want to continue to get better because I want her to be proud of me."
Caring for others comes naturally for Derby, who cared for both her parents and grandparents. "Working with someone like Maureen who needs someone else, and being that someone else is what I love best about my job," she said.
Established in 1999, the Hero on the Home Front Program recognizes care professionals who consistently demonstrate the BAYADA core values of compassion, excellence, and reliability. Each quarter, patients and peers nominate their local heroes. From the local heroes, division heroes are selected and ultimately four national heroes are chosen among five disciplines: registered nurse, licensed practical nurse, therapist, home health aide, and social worker. The four national heroes are recognized at the annual awards ceremony.
Watch what makes Regina Derby a hero.
Learn more about job opportunities at BAYADA.