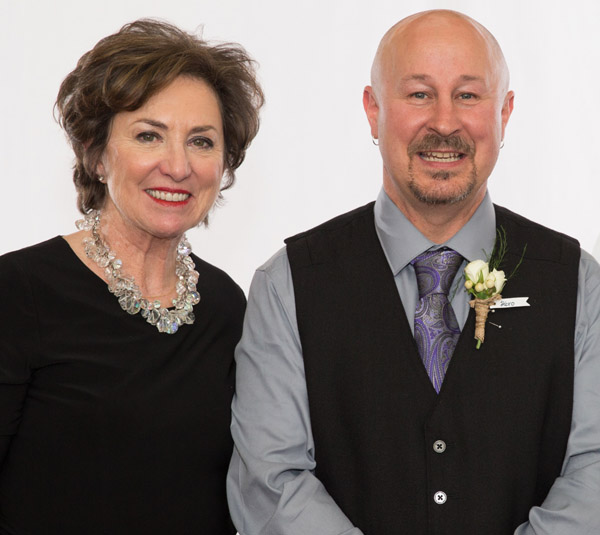 2014 National LPN Hero of the Year Kevin Shreckengast with BAYADA Home Health Care Director Ann Baiada
Licensed Practical Nurse (LPN) Kevin Shreckengast was recognized as the national LPN Hero of the Year by BAYADA Home Health Care, a leading provider of in-home care. Shreckengast was honored for exemplifying the highest standards of care before more than 1,800 employees at the company's annual awards meeting in Charlotte, NC on Saturday, May 17.
Shreckengast and his pediatric patient, Andrew, who regained his ability to walk, captured the hearts of the local community when they walked the two-and-a-half-mile route to Andrew's school as crowds lined up to cheer on May 31, 2013. Fourteen-year-old Andrew has Angelman's syndrome accompanied by a seizure disorder. The exceptional care Shreckengast provided for Andrew helped Andrew's family through a very difficult time.
"On January 5, 2007, Andrew lost his ability to walk," said Andrew's father, Dean. "For 15 months, he sat idle, and we had to move him everywhere. He had severe muscle atrophy." Andrew began responding to a drug that helped with his mobility, Shreckengast took Andrew to therapy and helped him practice walking at home.
"Kevin is not only a nurse, but he's like a big brother to Andrew," said Dean. "He pushes Andrew to do well." Shreckengast had set the goal for Andrew to walk to school, and with hard work and determination they achieved it.
"It was Kevin's idea that made the whole community touched by Andrew's story," said Dean. "Kevin had that wisdom. He saw it through, he pushed him, and Andrew made it. We are eternally grateful for that."
Still in shock after learning that he was chosen from more than 4,000 LPNs for the LPN Hero of the Year award, Shreckengast explained that he is simply doing his job. "I would never expect this type of recognition," he said. "I care for Andrew the way I would want to be cared for."
Established in 1999, the Hero on the Home Front Program recognizes care professionals who consistently demonstrate the BAYADA core values of compassion, excellence, and reliability. Each quarter, patients and peers nominate their local heroes. From the local heroes, division heroes are selected and ultimately four national heroes are chosen among five disciplines: registered nurse, licensed practical nurse, therapist, home health aide, and social worker. The four national heroes are recognized at the annual awards ceremony.
Watch what makes Kevin Shreckengast a hero at http://tinyurl.com/nnhzkk9.