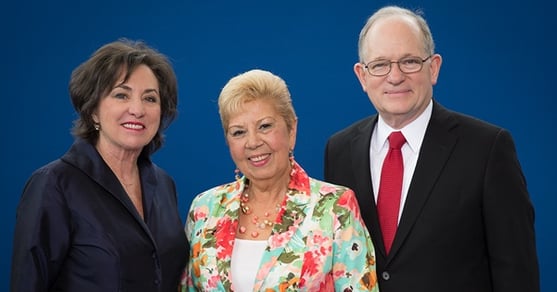 BAYADA Home Health Aide Hero of the Year Luz Sanchez (center) is pictured with BAYADA Director Ann Baiada and BAYADA President and CEO Mark Baiada during the company's annual awards meeting held in Washington, D.C.
Luz Sanchez was recognized as the national Certified Home Health Aide Hero of the Year by BAYADA Home Health Care, a leading provider of in-home care. Chosen from among thousands of nominees, Sanchez, who works for the BAYADA Atlantic County, NJ office, received the prestigious award for exemplifying the highest standards of care before more than 2,300 employees at the company's annual awards meeting in Washington, D.C. on April 30.
"During her career at BAYADA, Luz has clearly established that her work is more than simply a job; it's a calling," said BAYADA Director Maryann Prudhomme. "Her intrinsic kindness, stability, and zealous care show in everything that she does. She possesses an innate understanding of her patients, and uses that to build connections and trust. She embodies the heart of caregiving and it shows in her enthusiasm to provide excellent care."
According to Prudhomme, Sanchez brings comfort, stability, and hope to her patient, an elderly woman who lost her long-term memory as a result of a stroke. Sanchez also provides reassurance to the patient's husband, who feared he lost the "princess" he had built his life with after the couple met as teens 72 years ago in Atlantic City.
"Luz can see when the level of frustration builds up in in the family and she understands the pain her patient's husband is suffering," said Prudhomme. "She simply says, 'I got this,' and they know everything is going to be ok."
Sanchez, who has worked many jobs throughout her life, found her calling with BAYADA. "I love working here because I love my patients. They motivate me to stay healthy so I don't ever have to call out," said Luz who, along with her family enjoyed the whirlwind awards meeting in Washington, D.C. "The weekend was spectacular. My family and I have never been happier and had the time of our lives. I am so honored to be named the Hero of the Year and I am so thankful for everyone at BAYADA."
Established in 1999, the BAYADA Hero of the Year Program recognizes home health care professionals who consistently demonstrate the company's core values of compassion, excellence, and reliability. Each quarter, patients and peers nominate their local heroes. From the local heroes, division heroes are selected and ultimately four national heroes are chosen among five disciplines: registered nurse, licensed practical nurse, therapist, home health aide, and social worker. The four national heroes are recognized at the annual awards ceremony.