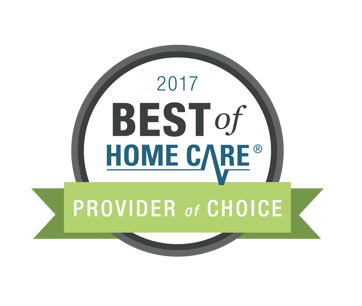 BAYADA Home Health Care received the 2017 Best of Home Care ® Provider of Choice Award from Home Care Pulse, the industry's leading research firm that benchmarks quality satisfaction across North America. This distinction ranks BAYADA among a select few home care providers across the country with proven ability to provide outstanding care. This year, 56 of BAYADA's adult nursing, assistive care, and assistive care state-program offices received the honor.
"We congratulate BAYADA on receiving the Best of Home Care Provider of Choice Award," says Aaron Marcum, CEO and founder of Home Care Pulse. "Since this award is based on client feedback, it demonstrates BAYADA's dedication to providing the highest quality of care with a focus on client satisfaction."
Each year, Home Care Pulse awards providers who meet certain criteria in one more of these 10 categories: ability, client and caregiver compatibility, compassion, communication, confidence, professionalism, recommendations, services, quality of life, and work ethic. Offices qualify if they have been Home Care Pulse certified for at least six consecutive months, have 10% of clients interviewed monthly, and achieve the top 50th percentile in three of more client satisfaction categories for the region.
BAYADA's Division Director Matt Kroll credits BAYADA's merit to the type of nurses the company hires and continuously trains. "It's an affirmation of our ongoing commitment to build great teams of home care professionals who love what they do and put our clients first," he says. "When people love what they do, they do it well."