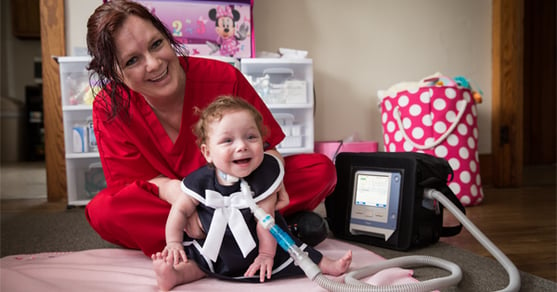 BAYADA Nurse Cindi Fitzpatrick loves the one-on-one care with her client Leeanna
BAYADA Pediatrics, a specialty practice of BAYADA Home Health Care, is hosting a career fair open house. The free event will be held on Wednesday, January 25, from 10 am to 4 pm, at PA CareerLink at Sunbury, Room 311, 225 Market Street, Sunbury, PA.
"We have immediate openings for RNs, LPNs, certified nursing assistants, and home health aides to care for children with special needs at home," said Shannon Evert, associate director of the BAYADA Pediatrics office in Bloomsburg. "Employees can take advantage of full-time, part-time, and per diem opportunities as well as flexible scheduling options."
BAYADA Pediatrics specializes in providing family-centered home care services for children from newborn through adolescence at home and school. Nurses manage diverse diagnoses and high-tech equipment that enable children to remain at home with their families, instead of facility-based care.
"Our home care professionals love the one-on-one care with their patients," shared Evert. "Home care allows them to create a wonderful bond that they just don't get in any other environment.
The career fair will include the chance to participate in on-site interviews and to speak with BAYADA staff about competitive salary, benefits, tuition reimbursement, scholarships, innovative training programs, and reward and recognition programs.
To learn more call 570-389-1568 or visit the BAYADA Pediatrics Careers in Caring page.