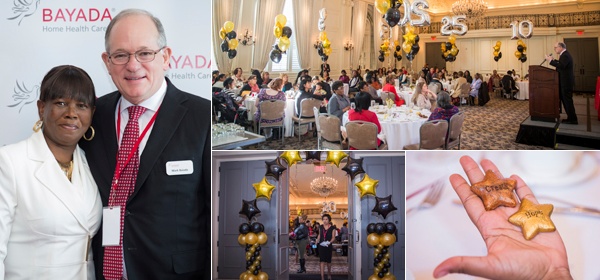 BAYADA's Philadelphia assistive care--state programs offices rolled out the red carpet for 25 home health aides recently during the BAYADA Annual Awards Ceremony—An Afternoon with Our Stars. The brunch at the Hyatt at the Bellevue in Center City Philadelphia celebrated the tenured home health aides for their work and dedication. The day also coincided with the end of National Home Health Aide Week.
In its fourth year, the brunch recognized aides for 5, 10, 15, 20, 25, and 30+ years of service. Awardees, their families, and office division leaders were in attendance. In addition to brunch, the day included flowers, smiles, tears, a photo/video booth, and congratulatory letters from state legislators. In total, 12 home health aides were recognized on stage individually by their client services managers.
"It gives us great pleasure to recognize our incredible staff," says Division Director Kevin Kuzmick."Our aides give so much of themselves to ensure clients have what they need. This event is only a small token of our appreciation."
The brunch began with a proclamation from the City of Philadelphia, followed by speakers Founder and President Mark Baiada and BAYADA's National Hero Ann Pannone, who delivered powerful messages about the inspiring work BAYADA aides provide each day. Pennsylvania Government Affairs Office Associate Director Laura Ness introduced special guest Pennsylvania Representative Jordan Harris.
"It's an honor to plan this event for our aides each year," said BAYADA's Director of the Philadelphia Corporation for the Aging office Donna Russell-Kane. "At BAYADA, we appreciate each and every one of our aides more than we could ever say or show."
Watch this video to hear the honorees say why they love what they do.
Photo: BAYADA HHA Linda Robinson with BAYADA Founder and President Mark Baiada; Brunch atmosphere at the Hyatt at the Bellevue