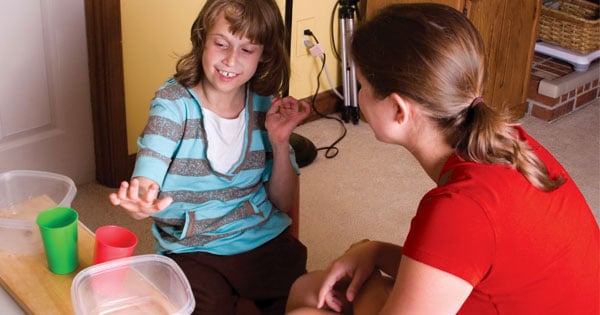 During the month of April, our nation shines a national spotlight on autism. Thousands of landmarks, buildings, homes, and communities light it up blue in recognition of people living with autism, and to promote education, awareness, and research into new treatment.
According to BAYADA Manager of Behavioral Operations Kristen Koba-Burdt, M.S., BCBA, LBA, autism, or autism spectrum disorder (ASD) refers to a range of conditions characterized by challenges with social skills, repetitive behaviors, speech, and nonverbal communications. There is not one type of autism, there are many. The term "spectrum" reflects the wide variation in challenges and strengths inherent in each person living with autism.
Evidence-based treatment shows great promise
While there is no cure for autism, an evidence-based treatment called applied behavior analysis (ABA) has shown great promise.
"ABA therapy is the science of behavior," explained Koba-Burdt. "We look at increasing desired behavior and functional skills and decreasing challenging behaviors. The therapy is tailored to each person's specific needs, that's what makes it so successful."
During ABA therapy, a Board Certified Behavior Analyst® (BCBA) works with the family to develop an individualized treatment plan to meet the needs of the person with autism. The focus includes increasing and improving a myriad of skills including communication, participation in daily activities, eye contact, play skills, and social engagement. ABA therapy can also be used to address challenges with toilet training, feeding concerns, gross and fine motor skills, sensory issues, and daily living skills.
Parents play a role in the success of ABA therapy
"Parents play an essential role in the success of ABA therapy," said BAYADA Behavior Services Manager Dr. Lori Babbitt, BCBA, LBA. "We observe parent-child interactions and train the parents on the strategies that are used with their child. The goal is to reinforce positive behaviors by helping parents implement ABA therapy in the home. We also involve the extended family, such as grandparents and siblings, to help with successful treatment for the child."
According to Babbitt, ABA therapy begins with an initial assessment which includes an analysis of the child's current level of skill. Specific, measurable objectives are developed based on the assessment, and throughout therapy every aspect of the child's performance is measured. "These measurements tell us if the treatment is successful, or if we need to switch gears," Babbitt explained.
Reinforcing positive behaviors
Koba-Burdt has studied the scientific evidence supporting ABA therapy, but she has also witnessed, first-hand, how this approach has changed lives for the better. "I worked with a three-year old boy who did not speak, had low skills, and exhibited aggressive behavior," she shared. "Thanks to ABA therapy, he was able to ask to play with certain items, and his parents saw a significant change. ABA therapy brought hope to this little boy's parents, and it's wonderful to watch that transition."
ABA therapy uses an approach called errorless teaching, which involves a teaching program that does not allow the child to make a mistake. Children use prompts to learn the correct way to perform a specific task. Another approach, called differential reinforcement, teaches the child what is acceptable and what is not by reinforcing desired behaviors. "For example, if a child does a good job, his behavior is reinforced by giving him access to something he really likes, such as playing with his iPad," explained Koba-Burdt. "It all depends on the reason for the child's challenging behavior. Is he trying to get his mother's attention? Does he want to play with his iPad? We test out what type of reinforcements work to change these behaviors, and if things are not working, we alter the reinforcement.
"ABA therapy can be fun," shared Babbitt. "I love hearing laughter from both the kids and the adults, it tells me that we are making a positive difference."
Indeed, ABA therapy can help people at every age and with many aspects of life, such as making friends, going to school, living on their own, and holding a job. If you have a loved one with autism, ask your physician about ABA therapy. Learn more >>
BAYADA Behavioral Health Manager of Behavioral Operations Kristen Koba-Burdt, M.S., BCBA, LBA, oversees applied behavior analysis (ABA) services in Hawaii. Her focus is on operations, policies, and procedures. She received her bachelor's in sociology from California State University Chico and her master's in behavioral analysis with a focus on autism, severe behavior, and organizational behavior management from St. Cloud University.
BAYADA Behavioral Services Manager Dr. Lori Babbitt. BCBA, LBA has worked with children with disabilities for over 30 years. She oversees all aspects of care for behavioral health clients in Maui, HI, including center-based care and care in the home. She also provides consultation to school staff, and clinical supervision for Registered Behavior Technicians and Board-Certified Behavior Analysts. She received her bachelor's degree in elementary and special education and her master's in special education from Texas A&M University. She earned a doctorate in clinical psychology from California Southern University.