Championing causes for home-based, medically-fragile children and adults and the people who care for them has earned five New Jersey officials top honors at the First Annual BAYADA Home Health Care Champion Awards Ceremony. This inaugural event was held at the Lafayette Yard Hotel in Trenton on November 19.
The event paid tribute to four New Jersey Legislators who have made significant improvements to home health care in the state: Sen. James Beach (6th District), Sen. Nellie Pou (35th District), Assemblyman Louis Greenwald (6th District), and Assemblyman Alex DeCroce (26th District), who was honored posthumously. Steven Tunney, supervising medical review analyst for the N.J. Division of Medical Assistance and Health Services, was recognized for his outstanding dedication to helping medically fragile children get the services they need at home.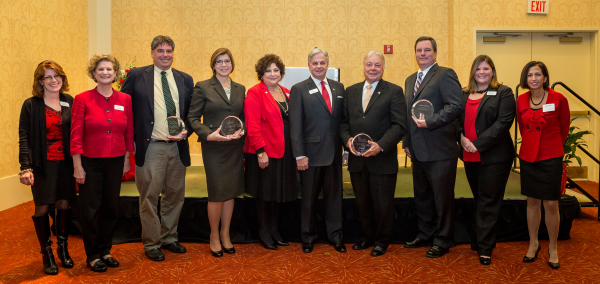 BAYADA Chief Marketing and Government Affairs Officer Dave Totaro described the award recipients as Champions who "have not only touched lives, they've changed them. Whatever the need, these Champions tirelessly heed the call to help and serve. They have shown that sitting up and taking notice is vastly different than standing up and taking action."
The honorees were lauded for their commitment to individuals as well as to the greater good. From helping one family get a much-needed ramp for their home to sponsoring legislation that improves the safety of children in school statewide, the award recipients made it their mission to protect and advocate for New Jersey's most vulnerable citizens.
Totaro concluded the ceremony by reminding the more than 100 guests that although much has been achieved, many challenges still lie ahead. He invited all to renew their commitment to advocacy and action and that, together, they can all do more to help those who need it most.