Marlton resident Rose Sample, a director with the BAYADA Pediatrics Camden County office, has been recognized as the national BAYADA Government Affairs Ambassador of the Year for her outstanding dedication to legislative advocacy on behalf of clients and staff. She was selected out of 137 Ambassadors throughout the organization for this prestigious honor.
Michael Sokoloski from Jermyn, Pa., and Tom Minowicz from Shelby, N. C., were each named as the BAYADA Government Affairs Ambassador of the Year for their respective states. All three winners were honored at a celebratory dinner in Washington, D.C., on December 5.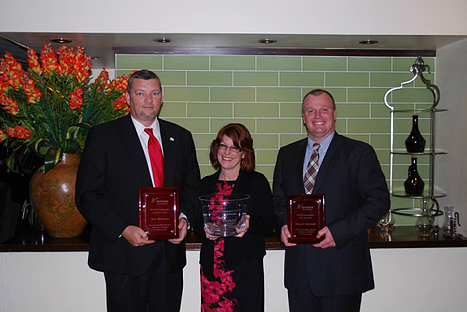 "These three individuals are outstanding advocates for our clients and all home-based medically fragile citizens in their states," says David Totaro, chief marketing and government affairs officer for BAYADA Home Health Care. "We recognize them for the amazing work they do—not only with their everyday responsibilities, but by volunteering to make a difference on the legislative level."
The BAYADA Government Affairs Ambassador Program was established in 2011 to help build relationships with local legislators in an effort to educate them about the need for, and the value of, home health care. Each BAYADA office in N.J, N.C. and Pa. has one ambassador who volunteers for the position, above and beyond their regular job responsibilities.
Sample, who started her career with BAYADA in 1993, played an integral role in the passing of a bill that protects the rights of medically fragile schoolchildren by arranging for family members to attend hearings in Trenton to testify. She has personally lobbied for increases in reimbursement rates in state funding for home care, and drove throughout the state, taking clients and family members to meet with their legislators. Sample also accompanied local legislators to visit a pediatric client in dire need of ramp, resulting in swift action to build him the much-needed accommodation
Sokoloski, a community liaison for BAYADA in Northeast Pa. for two years, made 13 district office visits to legislators and organized four home visits this past year. He hosts a monthly community television show in which he has invited local legislators to discuss the importance and cost-effectiveness of home health care.
Minowicz, a director with BAYADA in Morganton, N.C., for four years, works on building local as well as statewide support for home health care, and has organized many home, district, and capitol visits to garner support. He is a respected and knowledgeable mentor for other BAYADA employees interested in advocacy.
"Rose, Mike and Tom are tireless, passionate advocates for our clients and staff and are so deserving of this award," says Totaro. "We value all our Ambassadors for the work they do with legislators and key community leaders whose support is vital to helping us keep people living safe at home with comfort, independence and dignity."
Like us on Facebook to view all the photos from our event.
Get involved in legislative advocacy with BAYADA, visit bayada.com/advocacy.