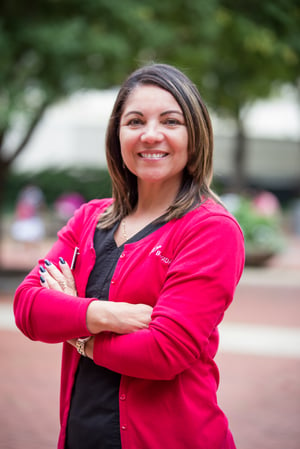 National Hispanic Heritage Month is all about recognizing the contributions and impact of Hispanic Americans to the history, culture, and achievements of the United States. Hispanic Americans make up a large percentage of our workforce and clients—so, we're honored to share their impact on BAYADA, too.
Without the passionate, hardworking, high-achieving, diverse clinicians we hire, we'd just be another home care company. It's clinicians like Brunilda "Cookie" Sanchez that set us apart. We're so proud to work with a woman who leads by empowering others—and who works tirelessly for the Hispanic community.
Cookie agreed to sit down with me and talk about her recent successes, challenges, and how she's celebrating her culture this Heritage Month.
Brunilda Sanchez wins a 2020 Powerful Latina Award

his was a great honor," she told me, after I congratulated her on the award. It was Monday, October 5th, and she had squeezed me into her calendar, in between visiting clients, paperwork, and virtually supervising her home health aides.
"I was so overwhelmed with happiness that I was called. They said I won this award for all the hard work and the encouragement that I do for our community."
Cookie knew she was in the running for a Powerful Latinas Award, but she didn't expect the win: "Actually I did some nominations for some of my nurses, who I think are amazing. So, I was just so surprised when they said, 'You got the award!'"
It's no surprise to her BAYADA family, though. Cookie is a well-known leader in Philadelphia's Hispanic community. She's been an outstanding advocate for nurses, home health aides, and patients through her work as a Clinical Nurse Manager for BAYADA and her volunteer work with the National Association of Hispanic Nurses (NAHN).
Latinas Lifestyle, creator of the Powerful Latinas Awards, is dedicated to creating health awareness and a healthier lifestyle for Latinas in the community by empowering them with educational tools. The Powerful Latina Awards are granted in recognition of the courage, dedication, and commitment of Latina women in the United States.
"This year, they wanted to involve a nurse," Cookie said. "Being that it was 2020, The Year of the Nurse and the Midwife, and of course, with COVID-19, all that shifted a little bit, right? I should say—tremendously shifted."
Typically, the annual event is held in person with approximately 200 attendees. This year, due to COVID-19, the awards were virtual, with the award delivered by mail. The honorees dressed up and met virtually to discuss what they do in the community.
While it would have been exciting to stand in front of hundreds and receive an award, having an intimate conversation with the other awardees was really meaningful to Cookie. And the organizers added a little fanfare by going live on Facebook, so others could join in on the celebration of the honorees.
COVID-19 challenges for clinicians and the Hispanic community
Navigating the pandemic has been difficult for most people. It's been especially trying for those on the front lines, giving care. Cookie works in one of BAYADA's Assistive Care offices in Philadelphia, PA, where they provide non-medical assistance with activities of daily living for adults and seniors when a health issue has made it difficult to manage everyday tasks on their own.
"For me, the biggest challenge in going back out to the community and working—and especially in my culture—is social distancing. Everyone's at home working. Kids are at home, going to school virtually. I've got to keep social distancing from my own family. I've got to be mindful."
She teaches that mindfulness to her aides at BAYADA and to the nurses she mentors at NAHN. Every week, NAHN holds a Wednesday Wellness session, where they can discuss their feelings, see how everyone's doing, see how everyone can help each other. It's so important, because they're burnt out. Nursing is a career that can easily burn you out—and in a pandemic, that gets exacerbated. So, it's important to engage in self-care and find ways to get your mind off of things.
"I needed something," she confessed. "I was so stressed out. It's okay to know what's happening, but when you let it consume you, it becomes pretty scary."
Back in March, she started running every day—at least two miles. Those efforts culminated in her completing the Broad Street Run the day before we spoke.
"I was so excited and happy to accomplish that. I said, 'You know, this COVID is not going to get me. I'm going to do something that I'm going to be proud of.'" She winced and laughed. "I'm in pain, let me tell you."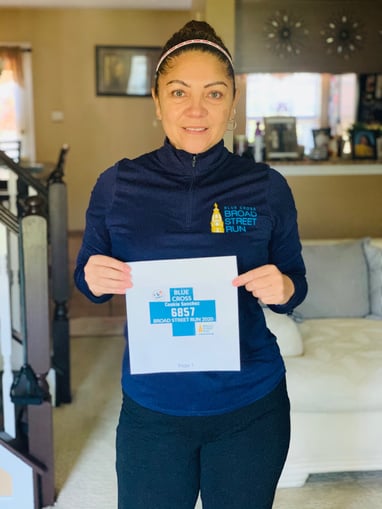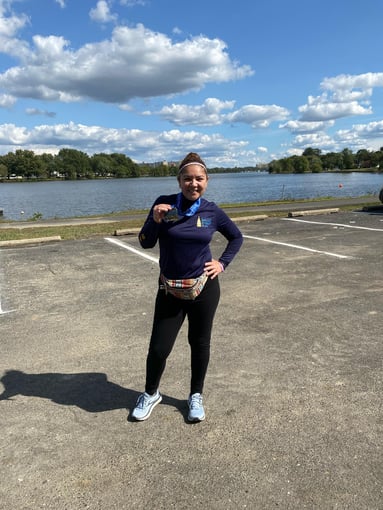 Cookie Sanchez after the Broad Street Run, Philadelphia, PA (2020)
The challenges don't stop with the clinicians, though. COVID-19 has made life a lot more difficult for Hispanic patients. Cookie explained, "A lot of the clients I see, there's a language barrier. It's difficult for them to try and speak with their physicians directly through Zoom. There's an issue where something may be missed."
Or, the clients don't even have a chance to speak with their doctor at all.
"I ask my clients, 'Have you had an opportunity to speak to your doctor?' They say, 'No, because they don't have anyone to translate, so my appointment has been changed for another two weeks.' Another two weeks go by, and the same thing happens. It's so difficult. That's why we need nurses like the ones in NAHN; we have to be their support group and help them navigate through these hard times."
Hispanic culture and giving back to the Latinx community
"What's your favorite part of the culture?" I asked.
Her eyes lit up. "I love the music! I love dancing. I love our food. I love the way we connect as family, you know? I love everything about my culture, I really do. I think our music—it's a given."
Cookie comes from a large family of six sisters and five brothers, all raised in the same home. All they knew was Spanish culture—how important family is—how important it is to give back to others. "And, of course, we weren't rich," she said, "but we were rich together."
For Cookie, those family values and the importance of giving back is something she sees often in the Hispanic clinicians she works with; there's something unique about their compassion.
"We knew how to give to our neighbors. We knew how to provide to others. I grew up translating for my mother and my dad all my life, because they had no idea. That, to me, is so important to understand what it means to provide to others. I'm just so proud to be able to be a Latina and to be able to speak two languages and to be able to provide and help others when they can't do it. It makes me feel so honored and so proud."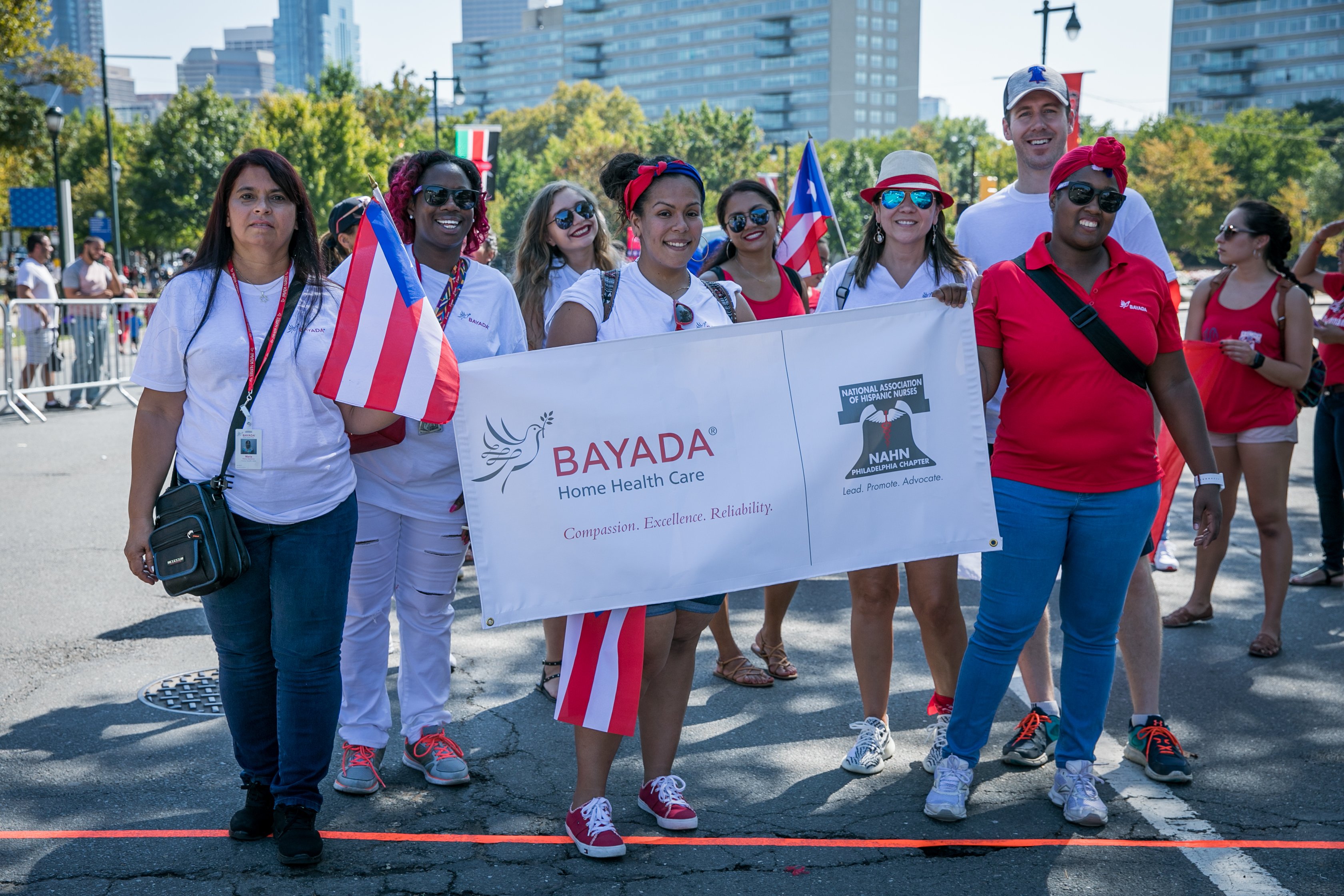 Puerto Rican Day Parade, Philadelphia, PA (2017)
Though the pandemic cancelled The Puerto Rican Day parade and other in-person events, NAHN has found some creative ways to celebrate National Hispanic Heritage Month and support small businesses at the same time. During restaurant week, they sent out a list of Hispanic restaurants to members, encouraging them to support, whether it be pick-up, delivery, or dine-in. Cookie went to three restaurants last week, herself.
"Of course, you still have to be safe—masks, social distance. Just make sure you're safe out there, but we're still trying to be out there to support the community."
Hispanic scholarships and mentorship opportunities
While the National Association of Hispanic Nurses still has monthly meetings through Zoom and social-distanced fundraising events, the scholarships are currently on hold. However, they are doing a lot of mentorship, outreach, and speaking to schools. Cookie wants to encourage students to get involved in nursing, educating them on what nursing is all about and the different paths they could take. In her talks, she stresses the importance of getting into organizations like NAHN and giving back to the community.
"I've been in NAHN for 10 years," Cookie said. "I've never felt so connected to my community. I never knew what networking was before getting into this organization. I never really understood what leadership was. Never understood how important it is to advocate for your patients. Even though you learn that in nursing school, you don't realize it until you become a part of it. That's just so important to be able to do these things as a nurse."
Cookie is one of those leaders who's more of a listener. She doesn't lead because she wants to hear herself talk; she leads because of what she can do to help others. She served as NAHN President in 2019, and she helped lead BAYADA's recruitment effort in Puerto Rico after Hurricane Maria.
NAHN is a national organization, but there are also local chapters. Cookie is involved in the Philadelphia chapter. There are plenty of ways to find them on social media, where they are @nahnphilly; they have a Facebook, Instagram, and Twitter. They post regularly, and there's a lot of information on how to join, how to apply for scholarships, and how to contact any of the board members.
"This is really important; if you are interested, please reach out to anyone on the board and we can guide you in different ways."
She told me about a young lady who reached out to her, looking for guidance. She was enrolled in law school and looking for mentorship. While Cookie had to playfully plug nursing—"You sure you don't want to be a nurse?"—she ended up connecting her with a Latina attorney who was excited to mentor her. That's the power of networking. It's so important to reach out.
When she talked about a few nursing students who had just passed their NCLEXs, there was an extra layer of passion and pride in her voice. She relayed how members of NAHN had socially-distance surprised the students at their homes with balloons and flowers. "We're so proud of them. From our chapter as a student, now they're in our chapter as nurses, so that's really wonderful."
"I always tell the students when they graduate: 'Now you have the knowledge. Don't keep it to yourselves; give it to someone else.' And they always do. It gives me chills."