Paula Candler named BAYADA CNA of the Year
BAYADA Home Health Care Certified Nursing Assistant (CNA) Paula Candler was chosen out of thousands of hopefuls as the 2022 CNA Hero of the Year by BAYADA, a leading non-profit home health care provider.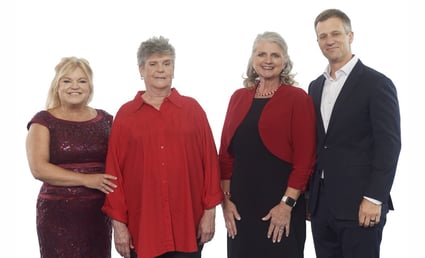 Candler was nominated by her peers through the BAYADA Hero Program, designed to recognize and reward those who exceed the highest standards of quality care and work ethic at an office, division, and national level. The awards epitomize BAYADA's mission of helping people live safely at home with comfort, independence, and dignity by providing the highest quality home health care services available.
After caring for many friends and relatives, Candler began her career as a CNA at the age of 56, working to help local adults and seniors in need of companionship, assistance, and supervision. Known for her unparalleled dedication, Candler has never turned away a client in need and has consistently scored 10 out of 10 on client satisfaction surveys. She exemplifies The BAYADA Way, the company's philosophy for providing quality care with compassion, excellence, and reliability.
One example is client Jack Shell Jr., who started home care services with Candler after being paralyzed in a construction accident. Candler provided incredible care to Shell, becoming one of the most important people in his life and a rock for his family until he passed away. So much so that Shell turned to Candler and requested that she hold his hand as he was dying
"She gave him back some of his independence by being his hands and feet," explained Shell's sister, Laurie Howard At the time of his death, "there was this precious balance… knowing what a family needs and how to assist while still giving them their private time."
Candler accepted the prestigious award for exemplifying the highest standards of care at the company's annual awards meeting held in Washington, D.C., on Saturday, May 21. The award was presented by BAYADA Clinical Manager Lisa Boland.
"I am thrilled beyond words for our CNA hero of the year, Paula Candler," said Boland. "This award recognizes all of the hard work and talent that she gives so freely, so quietly, and humbly, not only as a certified nursing assistant, but also to her network of family, friends and close-knit community."
Candler's nomination noted that she is compassionate to her core, something her colleagues argue can't be taught or trained. She has a unique, innate ability to provide her clients with exactly what they need at that moment to feel cared for and supported. She is loved and valued by her clients, clients' families, and BAYADA team.
"Being a BAYADA Certified Nursing Assistant has been one of the most rewarding things I've ever experienced, and I hope to keep doing it as long as I can," said Candler. "Our clients deserve it, and I enjoy it."
What makes Paula Candler a Hero
BAYADA Home Health Care Hero Program
The Hero of the Year Award is part of BAYADA's Hero Program, which allows the company to recognize and reward those who exceed the highest standards of quality care and work ethic at an office, division, and national level. Heroes can be nominated by their colleagues and clients. All BAYADA employees and clients can nominate any registered nurse, licensed practical nurse, home health aide, or other professional caregivers.