More than 170 BAYADA Home Health Care employees— joined with advocates from the Pennsylvania Homecare Association (PHA), other home care providers, and clients—swarmed the state capitol on Tuesday, April 21, helping to spread the message to legislators that home care is the most affordable and preferred delivery of health services. Organized by PHA, the industry's lobby day sought to educate and garner support from lawmakers on three key home care issues.
One of those issues, a focus of the lobby day's kickoff rally, is the pediatric shift nursing rate, which has received only one increase in 22 years.
Drums resident Christina Tompkins, the mother of a home care client and a registered nurse clinical associate with BAYADA, talked about her ability to work thanks to the 10 hours of daily life-sustaining care nurses provide her daughter, Juliann, and the difficulty she has observed as a professional in recruiting and retaining these nurses due to poorly reimbursed home care nursing.
"Instead of dwelling on what will not happen," said Tompkins, referring to her daughter living with Cockayne syndrome, a terminal illness, "the small accomplishments to other people become large accomplishments to families like us. From being able to say 'Mommy,' drinking from a cup without assistance, and even being able to use the potty, these are some of the accomplishments that Juliann's nurses have helped make possible."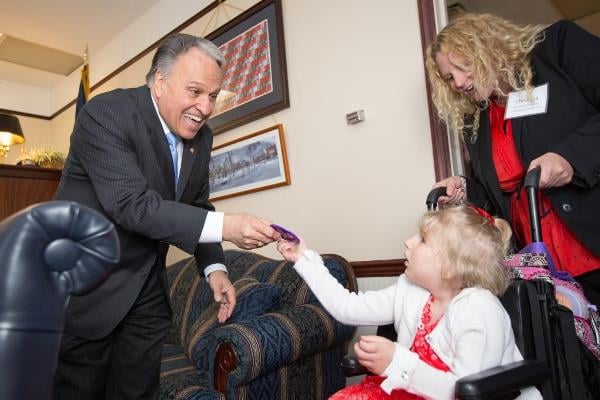 Juliann and Christina Tompkins meet with Representative Eddie Day Pashinski (Luzerne County)
The industry is seeking support for increased funding for Medicaid in-home services in two areas: a $10 per hour increase for pediatric shift nursing and a 10 percent increase to the personal assistance services (PAS) rate. PAS includes assistance with bathing, grooming, and meal preparation and has suffered reductions in many regions in the state, while reimbursement for pediatric shift nursing would help families like the Tompkins.
After the morning rally, more than 300 advocates set out to meet with 191 lawmakers in their offices to share stories of home care, and educate them about their issues.
The industry is also asking lawmakers to reject the new 6.6 percent sales tax on home health care services that is in the proposed fiscal year 2015/2016 budget. "This is taxing the sick, who are already stretched to the farthest," said David Totaro, chief marketing and government affairs officer with BAYADA.
Lastly, PHA and its members oppose a proposed online registry of home care workers. The intention of the registry would be to help families find home health aides, but the only requirement would be a criminal background check, which home care agencies already do. It does not take into account whether the aides have appropriate training, experience, emergency preparation, insurance, and more. PHA believes it gives families a false sense of security.
A noontime press conference on the capitol rotunda steps was an opportunity for advocates to show their strength in numbers as speakers from the legislature, PHA, BAYADA, and recipients of care shared stories of need, hope, support, and determination.
"We need to say no to taxing home health care services," Senator Pat Vance said to applause. "We have to support families and allow them to get the care at home. We need to make it easier for them, not more difficult and not more expensive."
Media, Pa., BAYADA Director Etta Dimarco spoke on behalf of her client, Rhoda Mull. Diagnosed with ALS eight years ago, Mull is unable to speak, but wrote a heartfelt speech using eye-gaze technology, which Dimarco read.

"My home health aide's name is Lauren," Mull said, referring to BAYADA Home Health Aide Lauren Christy, "Lauren is my rock. She makes it possible for me to live a fuller life." She continued, "I am here today to be a voice for so many other that cannot be. I am here today with other members of the home health care industry to advocate for clients like me, to ensure they get the quality of services they deserve."

Vicki Hoak, CEO of the Pennsylvania Homecare Association, summed up why enthusiastic and dedicated supporters of home care spent the day knocking on lawmakers' doors.
"Home care is the most preferred care," said. "It is the most cost-effective care and most importantly it works. Our legislators need to hear there is no place like home."