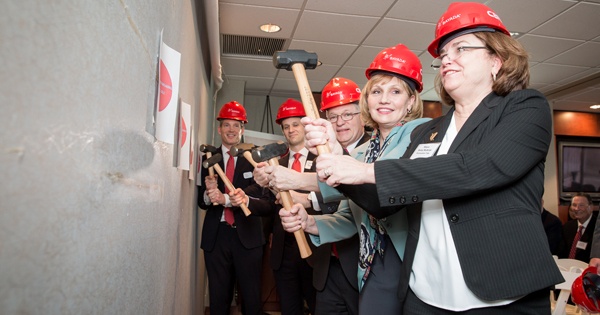 Getting ready to symbolically begin renovations of BAYADA's new buildings are, (from left to right) BAYADA Chief Financial and Administrative Officer Tom Sibson, BAYADA Practice President David Baiada, BAYADA President and Founder Mark Baiada, NJ Lieutenant Governor Kim Guadagno, and Pennsauken, NJ Mayor Betsy McBride.
BAYADA Home Health Care, a national provider of home health care services to children, adults, and seniors from more than 310 offices in 22 states, recently hosted a ceremony to mark the start of renovations on its new office space at 4300 and 4350 Haddonfield Road in Pennsauken, NJ.
Lieutenant Governor Kim Guadagno served as keynote speaker at the ceremony, which also featured U.S. Congressman Donald Norcross's District Director Mary Cruz, Pennsauken Township Mayor Betsy McBride, and BAYADA President and Founder Mark Baiada.
Currently, BAYADA has support office locations throughout several counties in the Philadelphia region, which include Burlington, Camden, Gloucester, Philadelphia, Bucks, and Montgomery counties. The new office space will consolidate support office functions, such as IT, communications, and accounting, bringing more than 400 employees into a single location with plans to transition an additional 100 employees to the site over the next five years. The move is supported by the New Jersey Economic Development Authority's Grow New Jersey Program, which seeks to attract or keeps jobs in the state by offering tax credits to businesses.
"I'm proud to stand here today with the healers, caregivers and incredibly compassionate people who make BAYADA the outstanding organization it is and will make this new space a great success," said Lt. Governor Kim Guadagno. "Clearly this event demonstrates how government, at all levels, can come together and help grow companies and create jobs."
Mayor McBride agreed. "We are thrilled to include BAYADA as part of a growing number of companies who have, over the past six years, invested well over $100 million into our community through redevelopment and construction projects, which has allowed us to keep our property taxes level and create more opportunities for economic growth," she said.
According to Mark Baiada, the move will allow for significant cost-saving which will be used to support the growing demand for high quality in-home care by addressing the critical, nation-wide nursing shortage. According to the Bureau of Labor Statistics (BLS), nursing opportunities are projected to grow by 19 percent by 2022, while nearly 525,000 currently working nurses are expected to retire—putting the total number of new nurses needed at more than 1 million over the next seven years. Home health aide opportunities are expected to increase by 48%--that's 600,000 positions—to meet the demand of the aging Baby Boomer population
"The nursing shortage has made it a challenge to find the right people to help our patients," said Baiada. "We hope that our commitment to creating a meaningful nursing career—by investing in technology and training opportunities—will make home health care nursing the clear choice. To underscore our 'people-first' strategy, we're using tablets, piloting electronic documentation, leveraging telehealth communications with physicians, delivering pre-packaged medications—all with the goal of elevating nurses to the top of their profession and fulfilling their cause of one-on-one care. In addition, we recently launched a new nurse recruiting campaign called I Love What I Do, to emphasize what employees have been sharing for years."
BAYADA plans to renovate the two buildings in phases, with the first group of employees moving in June, 2017. In addition to support office staff, the new space will also host BAYADA's Camden County assistive care office, which employs home health aides who provide personal care services such as help with bathing, grooming, and dressing.
Learn more about home health care services.