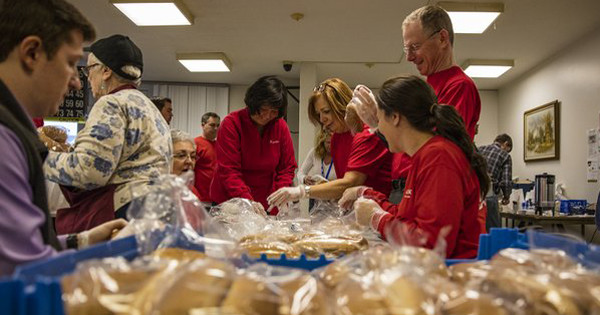 Earlier this month, representatives from various BAYADA Home Health Care offices in Massachusetts had a fantastic day helping senior citizens.
For the second consecutive year, BAYADA supported the Meals on Wheels America's Massachusetts Emergency Relief Program. The BAYADA-funded program provides seniors with access to nutritious, shelf-stable meals in the event of inclement weather or a disaster, where regular Meals on Wheels meal delivery services are interrupted. Funding in 2015 will support eight different Meals on Wheels programs throughout the Commonwealth, serving more than 2,000 seniors with approximately 8,000 meals.
On Wednesday, December 2, BAYADA Home Health Care volunteers gathered at a local Meals on Wheels program—operated by Old Colony Elder Services—to hand-deliver meals to local seniors and serve a congregate lunch to residents of Belair Tower in Brockton, MA.