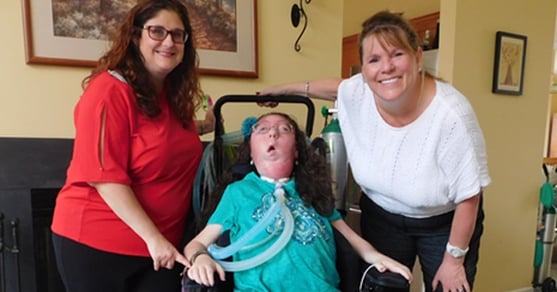 Pictured (from L to r) are Tara Montage, her daughter Mary, and New Jersey Assembly candidate for the 7th district Carol Murphy
Mary Montague, 20, of Burlington, NJ, who was born with spinal muscular atrophy (SMA), recently welcomed New Jersey Legislative District 7 assembly candidate Carol Murphy to her home to witness, first-hand, the vital role that home care nurses play in her daily life.
SMA is a genetic disease that affects the motor nerve cells in the spinal cord, taking away the ability for those with the disease to walk, eat, or breathe on their own. Since birth, Mary's parents, Tara and Jim, have relied on nursing care at home to help with their daughter's complex medical needs. However, it has become increasingly difficult to find nurses to cover the 16 hours of insurance-authorized care that Mary is eligible for every day.