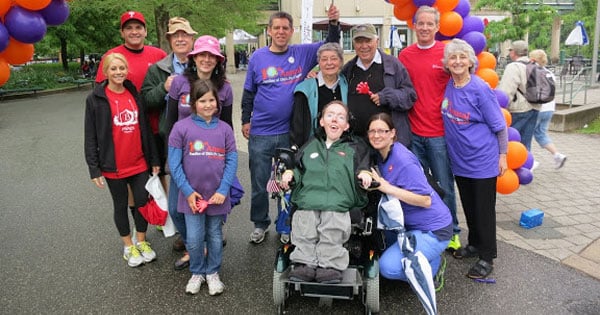 BAYADA staff, clients, and their families participate in the Cure SMA Walk-N-Roll
In September, 1997, Tara and Jim Montague were thrilled to welcome their daughter Mary to the world. However, when they brought their baby home, the couple noticed she was not meeting her developmental milestones. After numerous tests and doctor visits, Mary and Jim received news no parent wants to hear. Their precious daughter was diagnosed with a rare genetic condition called cerebrocostomandibular syndrome, characterized by malformations of the mouth, jaw, and tongue and abnormal development of the ribs.
As their daughter grew, new symptoms emerged, and they suspected that an additional medical condition was the cause. Sure enough, when Mary was 8, a neurologist confirmed the couple's worst fears. Ttheir daughter had spinal muscular atrophy (SMA), an inherited disease that destroys the nerves controlling voluntary muscle movement, which affects crawling, walking, head and neck control, and even swallowing.
To enhance nursing care at home for Mary and the hundreds of patients with SMA, BAYADA Pediatrics, a BAYADA Home Health Care specialty practice, is proud to announce its 6th year of partnership as a national sponsor of Cure SMA. The non-profit organization is dedicated to supporting families affected by the disease and funding research for new treatments and, eventually, a cure.