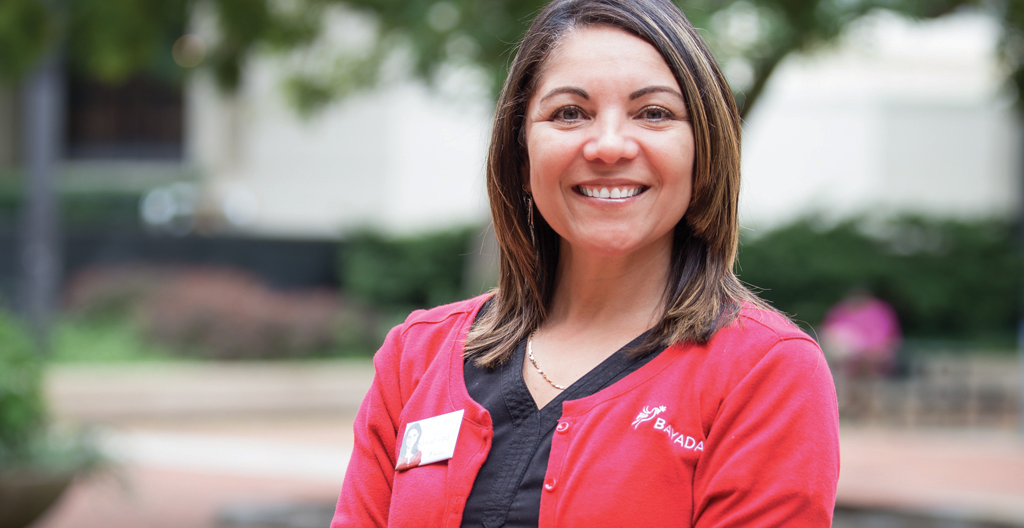 Today marks the beginning of Hispanic Heritage month, and we're celebrating by sharing a story of one of our BAYADA Nurses who continues to give back to her community and advance her career with a drive matched only by her compassion for others.
Meet Brunilda "Cookie" Sanchez, RN, BSN—a BAYADA Nurse and President-elect of the National Association of Hispanic Nurses, Philadelphia Chapter.
Cookie grew up in North Philadelphia, PA. When
she was five years old, she sustained third-degree burns on her arm from a hot coffee spill that led to a month in the hospital. She loved the nurses who cared for her during that experience, and the comfort they gave her inspired her to seek a career in health care.
At the age of 13, Cookie had her first opportunity to be a caregiver as a candy striper at Einstein Medical Center. She only was allowed to hand out water to patients, but it made her feel so good and it meant so much to her to help people.
The road to Cookie's nursing career hasn't been easy. She became pregnant at the age of 17 and dropped out of high school without completing her senior year. However, she still earned her GED and took a free course at Einstein to become a certified nursing assistant (CNA). She began working in a nursing home and completed a licensed practical nurse (LPN) program in 1991. She then worked at Temple University Hospital as a nurse in an oncology unit for 10 years.
During that same period, Cookie worked part-time for BAYADA as a bilingual clinical manager for Spanish-speaking clients in North Philadelphia. That part-time job lasted for six years and helped Cookie put herself through a registered nurse (RN) program while also working in the hospital and raising her two daughters.
Cookie earned her BSN online while working in the ICU, then applied for and received a case manager position at the same hospital. She'd been working long, late hours as a case manager for about a year when she received a call from the director of BAYADA's assistive care office in Philadelphia who'd never forgotten Cookie from her days working at BAYADA.
"Everybody loved Cookie, and she was really good in the field," recalls assistive care Director Donna Russell-Kane, who was a client services manager for BAYADA at the time." Cookie is a lovely, caring person with a gift for relating and communicating with clients, and she's very encouraging to our aides to pursue more education and career opportunities if they want to. Our aides appreciate that."
"I had such fond memories of when I worked at BAYADA before, and the people I was able to help in my old neighborhood," says Cookie. "I'm able to help families by speaking Spanish to them and help the clients understand what medications they're taking and why."
As the new president-elect of the Philadelphia chapter of the National Association for Hispanic Nurses (NAHN), where she's been active for about 10 years, Cookie's grateful for BAYADA's support. "BAYADA helps us in our fundraising, which allows us to award scholarships to Hispanic nursing students. We also do a lot of mentorship of young Hispanic nurses, and community outreach to local universities and colleges," Cookie says.
Cookie currently supervises BAYADA Home Health Aide (HHA) Elsie Torres who says, "Cookie's the best! I like the way she treats people. Clients love her. She has a lot of experience and a passion for her work."
Cookie certainly is committed to nursing, and determined to keep learning and growing in her chosen profession. Her next educational goal is to become a nurse practitioner (NP).
Here's to Hispanic caregivers everywhere--continue reaching for the stars. We celebrate you this month and always!