When I was a senior nursing student, most of my peers expressed a desire to enter one of three fields – intensive care, emergency room, or pediatrics. I spent an exciting semester at Children's Hospital of Philadelphia where I was mentored by exceptional pediatric nurses who inspired me to become a pediatric nurse. Today, many nursing students do not have the same exposure to pediatrics that I had. Most community hospitals have closed their pediatric units over the past 20 years, making it difficult for schools of nursing to find pediatric clinical placements for their students. In fact, many nursing schools are forced to teach pediatrics in their simulation labs. Without the experience of caring for live pediatric patients, many new nurses forfeit dreams of a career in pediatrics.
But, wait! BAYADA Pediatrics has created innovative ways for nurses to follow their pediatric dreams. BAYADA Pediatrics has always maintained the highest standard of care by requiring that a nurse has a full year of nursing experience before applying for a pediatric home care position. Now, without compromising its high standards, BAYADA Pediatrics has developed three accelerated pediatric career paths—a Nurse Residency Program, an Accelerated Six-month Program, and a Virtual Introduction to Pediatrics course—for nurses who have no or little previous pediatric experience.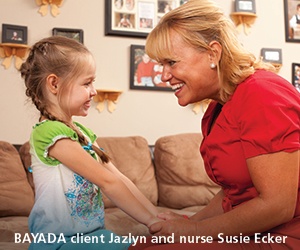 Nurse Residency Program – The Nurse Residency Program is designed for newly licensed registered nurses. The structured 12-week course curriculum includes an initial two weeks of classroom instruction, followed by seven weeks of classroom instruction, simulation lab practice, and clinical experience in client homes with trained preceptors. During the final three weeks of the program, the nurse residents spend all of their training time with preceptors in client homes. Four successful classes over the past two years have graduated approximately 35 highly skilled BAYADA Nurses. Now, BAYADA Pediatrics has expanded the fifth nurse residency class in September to more than 25 nurse residents.
Accelerated Six-month Program –Nurses who have 750 hours of nursing experience may apply to this program to build on the skills they've already developed as a new nurse. The nurses receive a 12 hour Introduction to Pediatrics course, extensive simulation lab training of clinical skills and competency validation, family-centered psychosocial aspects of home care, written certification exams, and 24- 48 hours of training with a preceptor in the home of their first client. Several BAYADA Pediatrics offices have participated in this pilot program over the past year, including the Mt. Laurel, NJ pediatrics office. Its director, Meredith Miller, reflects on its success after having had three nurses graduate from it. "We have had good success with this program. All three nurses are now working independently. I think it is a wonderful program and a safe method of properly preparing nurses to care for the medically complex children and families we serve."
Virtual Introduction to Pediatrics – For adult practice nurses with no pediatric experience, BAYADA Pediatrics offers a convenient, flexible way to receive pediatric instruction and experience. Courses include a 12-hour self-directed learning (SDL) Intro to Pediatrics course, followed by a 6.5-hour virtual classroom course. Live virtual instruction focuses on critical aspects of pediatric anatomy and physiology and pediatric assessment. Nurses then spend time in the simulation lab to demonstrate skill competency. Written exams are administered and the nurses spend a minimum of 24 hours with a trained preceptor on their first client. Chantel Denny, a clinical manager and nurse educator at the Mt. Laurel pediatrics office, gives high praise for the Virtual Introduction to Pediatrics training. "In the past, nurses had to sit in our office for several days to receive classroom instruction. The nurses who take the virtual class love the convenience of attending from home. We have one or two nurses take the virtual training each week." Chantel reports that those nurses who have completed the course are highly satisfied with the comprehensive instruction materials and feel confident to practice safely.
With all the training options BAYADA Pediatrics offers, a pediatric nursing career is closer than you think!