I have no memory of ever wanting to be anything but a nurse. Growing up, I admired many nurses who seemed to embody intelligence, compassion, resourcefulness, and bravery in their quest to relieve human suffering. I read heroic stories about nurses Florence Nightingale, Clara Barton, Mary Todd Lincoln, and Walt Whitman – yes, THAT Walt Whitman, a poet and a nurse during the Civil War. Forget The Hardy Boys – I read the Cherry Ames, Student Nurse series! For me, nursing has turned out to be everything I had hoped. My nursing career has taken me around the world and provided me with enriching opportunities to serve humankind abroad and at home and to mentor nurses who have become valuable members of the nurse community.
I began my career in the hospital as a staff nurse caring for patients who suffered from traumatic brain injuries. I was mentored by experienced nurse managers who had multiple responsibilities of serving patients, their families, the staff nurses under their supervision, and their organization. I wanted the same ability to care for and influence as many people as possible. I went to graduate school for an advanced degree in nursing and health care administration that enabled me to assume nursing leadership and teaching roles for the rest of my career.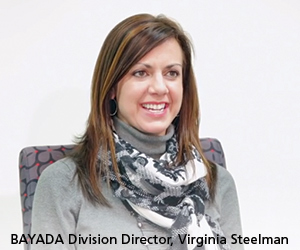 It often takes many years to climb the professional ladder in the hospital. My friend, Virginia Steelman, discovered a faster, equally-rewarding leadership path in the ASPIRE talent development and mentoring program at BAYADA Pediatrics, a specialty of BAYADA Home Health Care.
The ASPIRE program provides nurses with the training, resources, and support needed to expand their skills in clinical specialization, clinical leadership, field leadership, or business leadership.
Virginia began her career as a pediatric staff nurse in a hospital, where she worked for three years. While at the hospital, she also worked part-time for BAYADA. She discovered that intensive pediatric care was quickly moving from the hospital to home as more and more children with complex health care needs were being discharged, but continuing to need nursing care at home. She also learned that opportunities for career advancement were more available in home care.
Virginia joined BAYADA as a field nurse and thanks to the ASPIRE talent development and mentoring program, she became a clinical manager a few months later. After two years she was offered a promotion to director of a pediatric home care office in Salisbury, North Carolina. Five years later, she became an area director, a role she held for three years until earning the title of division director for a number of North Carolina offices.
"When I started with BAYADA as a field nurse, I never imagined I would have the opportunity to oversee multiple service offices in a matter of years," shared Virginia. "Through the ASPIRE Program, BAYADA provided me with the tools, coaching, and development I needed to achieve my dream."
Read what Virginia's colleagues at BAYADA have to say about the ASPIRE Program.