Choosing a career as an essential health care worker is an exceptional labor of love. From nurses to home health aides, these very special individuals regularly work holidays to care for the clients who rely on them. And this year, the COVID-19 crisis has required so much more of them than ever before.
As the pandemic drags on, many essential health care workers are tired and sad from the illness—even death—they have witnessed. Many are feeling stressed and isolated from their loved ones and usual holiday activities. Some are experiencing financial hardship due to quarantines or lost work hours.
What a beautiful gesture it is to care for our caregivers this holiday season by making them feel appreciated, supported, and understood!
What do essential health care workers really want for the holidays?
Here are some thoughtful gift ideas that can show your love, ease their burden, and help essential health care professionals enjoy this holiday season!
Make their season bright
What could be more meaningful than having fun and making memories with the people you love? For the busy clinician in your life, save them some planning time by giving them a ready-made virtual holiday solution.
Video chat: Arrange a video chat or virtual holiday celebration at a time you know they will be free. Have a New Year's toast or an ugly sweater contest, ask children to give a tour of their holiday decorations, do a scavenger hunt, open gifts, or read a bedtime story to grandchildren on a video conferencing app like FaceTime, Zoom, Skype, Webex, or Meet Now.
Share a project: Send them some arts and craft materials and instructions, or a holiday recipe, and do those activities together on a video call if you can't be together in person. Set your device on the table or countertop, and laugh and talk to each other through the whole process. Nailed it!
Give a subscription: With the Netflix Teleparty app, distant friends and family members can watch a movie together. Or get them a gaming app so you can play together online, like HouseParty, Board Game Arena, Tabletopia, or an online version of Monopoly, Clue, or Scrabble. Just don't leave them hanging—help them with install and setup!

Make a custom playlist: Lift their spirits with a ready-made soundtrack of music you know they'll love. For songs with special meaning for essential health care professionals, check out Where Are You Christmas (Faith Hill) and our Caring for Caregivers playlist on Spotify.
Feed their soul
Remember that for some families, meals, bills, and basic necessities are a struggle this year. Shopping has become more difficult. Many are juggling homeschooling and family caregiving at home and don't have much time or energy to cook. An edible gift is never wasted, and always appreciated!
Send food: Baked goods are always a treat; so is a breakfast casserole they can just pop in the oven on Christmas or New Year's morning. Or take a cue from BAYADA's Tucson Senior Living office and home-deliver holiday dinner for the whole family!
Send drink: Nurses are known to run on coffee—never a bad choice. Or think about giving all the ingredients for a family-sized batch of their favorite holiday drink—hot chocolate, cider, egg nog, tea, or a specialty cocktail/mocktail.
Turn your party into a drive-through: Sad to miss your annual holiday party? Take inspiration from BAYADA's Rutland, VT home care office and turn it into a drive-through lunch event! Wear your mask and meet your field employees in the parking lot with their holiday meal!
Take a collection: For families experiencing business closures, illness, or other hard times, rally your team to buy and home-deliver groceries and household supplies to health care workers in need—in your masks and festive attire, of course!
Share memories
DIY: Nothing says I love you like a homemade gift. Whether it is a card, scrapbook, ornament, paper snowflake, glittery pinecone, or picture frame... taking the time to make something shows you care, and it will always remind them of you.
Give a photo album: Curate your digital photos into a keepsake album they can keep on their coffee table and treasure forever. Any number of services will make and mail them for you, such as Shutterfly, Snapfish, Mixbook, and most pharmacies and retail stores that print photos.
It really is the thought that counts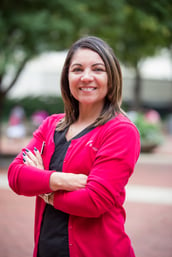 "I think one of the most important things we need right now is empathy," said Cookie Sanchez, RN, a BAYADA Clinical Manager. "In my 25-year nursing career, I have never experienced such challenging times. I have had to miss out on being close to my family to keep them safe. I haven't been able to see my parents. The sweets, coffee, socks and t-shirts I've received as gifts have been very comforting—knowing that we are being recognized and that someone understands what essential workers have been facing."
Thank you for everything you do for us, happy holidays, and may it be a very happy New Year!