Are you a nurse thinking about career options? There is a clinical care setting you might not know exists. A place where nurses take the lead in care delivery—and are trusted to personally see to it that every medical need is met, for one individual at a time. Where a nurse can learn and practice advanced, multispecialty skills on complex cases. And where they may provide family education, respiratory therapy, and enteral care, all in the same visit.
That unique setting is in the home. Not all BAYADA in-home nursing services look the same, and the required skills vary. But what they all have in common is a lot of variety, autonomy, personalized care, professional development, and hands-on know-how. The BAYADA Nurse is an empowered nurse. There are no limits to what a BAYADA Nurse can do.
For many, this job fulfills their vision of what nursing is meant to be.
A rewarding sense of calm and competence
"Working in home care teaches you a whole new set of nursing skills—comprehensive therapeutic and preventive care that you don't get the chance to do in acute or long-term settings," says Merry Sumner, an LPN for BAYADA Pediatrics. "You learn about oxygen tanks, splints, standers, and a lot of durable medical equipment. How to assist physical therapy exercises. Different types of trachs (tracheostomies) and g-tubes (gastronomy tubes). How to prevent contractures. How to manage seizure disorders. It may be a little intimidating at first, but I gain a sense of calm and competence once I start to understand something new. This job is very rewarding."
BAYADA RN Cindy Griffin worked in hospitals and nursing homes in the past, and now she has been with the same home health care client for the last ten years. They get along so well, Cindy transitioned from pediatrics to adult nursing when her client Corinna came of age. Corinna's now a 21-year-old college student.
"Working in the long-term care facility or in the hospital, I didn't do respiratory therapy. I didn't do wound care," Cindy says. "You would be surprised how much you need to know for home health care. I can change a trach like it's second nature. I feel comfortable and confident in my skills and knowledge base, and I love what I do. This will be the rest of my career."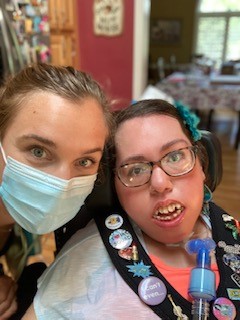 Corinna has spinal muscular atrophy, or SMA, a progressive genetic disorder that impairs muscle strength and nervous system function. She relies on mechanical respiratory support and assistive devices to get around and use a computer.
Highest training standards in the industry
But how do you become comfortable and confident with new skills, if you don't have home nursing experience? With some of the most thorough and well-equipped training, mentorship, certification programs, and continuing nurse education in health care.
BAYADA was the first home health care company to invest in clinical simulation (SIM) labs. These realistic home settings allow nurses to learn and practice their skills by role playing scenarios using a responsive medical manikin, with the guidance of a certified clinical educator. Simulation education is the recognized gold standard in health care, and the hands-on practice not only prepares our nurses for routine care and interventions, it builds competencies in decision-making that help our nurses feel calm and confident in a rare but potential emergency.
"BAYADA has given me far more training and educational opportunities than my previous job. Much better than other agencies where my classmates have worked, too," says Lorin Blessing, a BAYADA LPN who is currently working and studying for her RN. "I feel very competent and get to learn a lot of things LPNs aren't allowed to do in other care settings, like how to fix a g-tube and how to manage a client with very fragile Type 1 diabetes."
The best of both worlds
"If you became a nurse to be a healer, you are going to love the freedom you have at BAYADA. You spend your shift with one client and get to focus completely on them, their family, and their needs," says BAYADA RN Michele Knight, who specializes in adult nursing. "I'm able to be the nurse I always wanted to be."
"Once I gained insight into complex medical needs, it's fun for me. I know I'm helping, and I know what I'm doing," says BAYADA LPN Connie Moore, who specializes in pediatric nursing. "Parents tell me on a regular basis how I improve their quality of life and make their children feel like they matter. Those psychosocial aspects always make it a good day. This isn't a job; it's who I am."
Merry shares, "You get to be the acute care nurse, but you also get to be the everyday nurse who gives love and affection. At BAYADA, you get the best of both worlds."
Lorin remembers marveling at the difference when she switched to home health care. "Working in a long-term facility, I always left knowing there was more I could have done for all 30 of those patients. I could not believe BAYADA at first—it's such a different world. The high quality of care you can provide when it's one-on-one—I feel safe, confident, and I know I always have backup from my phenomenal care team."
"This is the most rewarding form of nursing," reflects Cindy. "I feel so confident in my skills and knowledge. You leave at the end of the day knowing the true beauty of that individual and your positive impact on the whole family's quality of life. I've got the best job in the world."
Are you a nurse committed to lifelong learning and continuous improvement, who wants to love what you do? Start a conversation and take a look at our immediate career opportunities at jobs.bayada.com.