Who remembers the iconic Bayada Nurses TV commercial that aired in the late 1990s? I never forgot it. It showed Nurse Lisa getting into her car in a heavy rainstorm and driving at night to reach her client who was sitting alone in his wheelchair, waiting by the window. Would she arrive? Of course she did, and with a smile!


I dreamed that would be me someday. And now, here I am—a BAYADA Home Health Care Nurse! And it's the best profession I could ever imagine.
Growing up too soon
It was a winding road that brought me here. I came to New Jersey from Puerto Rico when I was 10, along with my mother and three younger siblings. Although I was happy to be here, I had a difficult childhood. Our mother suffered from an undiagnosed mental illness, and couldn't take care of us properly. We relied on public assistance and didn't always have food on the table. By the age of 13, I'd become the protector and primary caregiver for my siblings. In those dark days, I didn't dare to dream big; I just focused on getting through each day and working hard to make it through high school.
A nurse by choice
My childhood was painful, but it made me strong and determined, and who I am today. I had to show my siblings we had the power to choose our life's path, and that education would open doors. Having been my family's caregiver, I loved the caring and compassionate nature of the nursing profession and knew I wanted that as my education and career—someday, somehow.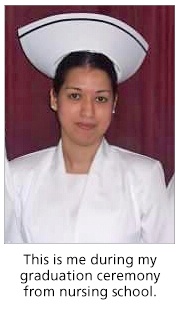 I got married, had two beautiful children, and with my husband's support, I finally was able to go to night school and become an RN. When I first started, I was scared to touch a tracheostomy and ventilator. My first six months working on a respiratory unit were so stressful! But that experience opened the door for me with BAYADA, where I'd always pictured myself. As a BAYADA Clinical Manager, I have the opportunity to take my skills up a notch and teach others, too. Turns out one of my happiest memories as a nurse was training a team of field nurses how to do trach/vent management at the bedside of our client who recently received a tracheostomy. I felt like I came full circle and could give back to the nurses who were like me when I was younger.
Why I Love What I Do
I still work at a hospital, too, but I love home care because I feel appreciated by the families we serve and by my care team. Just like I did for my own siblings, I can make a positive difference in people's lives. I wake up in the morning and can't wait to go to work at BAYADA. I live for those times when I see a client who was struggling begin to thrive, and they achieve a better quality of life. Our team can say, "We did that!" I'm proud of them and the good work we do together. Just like Nurse Lisa, we never deviate from our values of compassion, excellence, and reliability. We support each other in ways that surpass other settings and other home care agencies. Happy staff, happy clients, happy work!
Everyone has their own story. What was your journey to home health care? Share it with us!
About the Author:
Merari Singh, RN, BSN, is a Clinical Manager in Adult Nursing and has worked for BAYADA since 2011.