Many view home care nursing as the purest form of nursing. In fact, Florence Nightingale – perhaps, the most famous nurse of all – said, "…the ultimate destination of all nursing is the nursing of the sick in their own homes." When people are able to receive care in the comfort of their own homes, they have the benefit of being in familiar surroundings, with the people – and even, pets – that they love. Nurses who provide this care often develop close relationships with their clients, enjoying the meaningful-one-on-one care that is often absent in the hectic, impersonal setting of a hospital or institutional facility.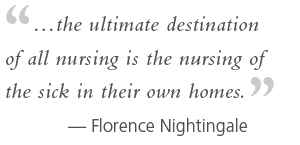 When a client welcomes you into their home, you're entering their lives. With this privilege comes great responsibility, requiring the kind of personal and professional skills that are unique to the home setting. It also comes with rewards that are deeply satisfying, as almost any nurse working in home care will tell you. With National Home Care Month currently being celebrated, it is appropriate to recognize the selfless efforts of home care nurses, who dedicate themselves to helping people, have a safe home life with comfort, independence, and dignity.
The Right Balance is the Key to Success

Home care nursing derives its challenges and benefits from its unique work environment—a person's home. Great home care nurses successfully navigate the professional-personal dynamic by not letting their close relationship with family affect the way they provide their skilled nursing services. Finding this balance requires tact, creativity, flexibility, good humor, respect, and patience, but the payoff is enormous: you'll achieve closer and richer relationships with your patients than is possible in other settings.
Many nurses who come from institutional settings often mention the frustration that results from less frequent patient contact caused by higher patient-to-nurse ratios. "Nurses want to work one-on-one with patients and see the results of their efforts," says Mark Baiada, founder and president of BAYADA Home Health Care, "Too often, this is not possible in an institutional setting—where nurses rush from bed to bed and rarely have the time to get to know any one patient." This one-on-one nurse-patient ratio also benefits patients tremendously—allowing them to receive care that is tailored to their unique needs. In addition, patients are often more relaxed and able to heal faster in the comfort of their own homes.
The Benefits Are Many
Other benefits of home care for nurses include the opportunity to assume a wide spectrum of responsibility, work flexible schedules, and have the chance to specialize and use high-tech skills. More and more qualified home care nurses are choosing to specialize in areas such as pediatrics, geriatrics, or rehabilitation. Some high-tech nursing procedures – traditionally only offered through hospitals and skilled facilities – are now routinely provided at home, giving home care nurses the opportunity to use their specialized skills. Many home care providers, such as BAYADA, offer its nurses 24-hour professional support and encourage a team environment—allowing nurses to maintain a feeling of community with other caregivers. The value nurses bring to home care often allows them to have their pick of cases and shifts, giving them the work-life balance they deserve.
Are you a home care nurse? Have you been given care by a home care nurse? How was the experience for you? Let us know!