I grew up with a grandpa who had a "half finger." When he was a young man, he accidently cut off the other half with a saw and was rushed to the hospital. He really liked the nurse who cared for him in the emergency room—so much, that he asked her out on a date. Eventually they got married and had a family. That ER nurse was my grandma!
My path to self-discovery
Nursing had brought my family together, but at first, I didn't know it was the profession for me. In fact, I didn't know what I wanted to do. I got a job straight out of high school and worked my way up to assistant manager of a pharmacy, until I hit a career ceiling there. I changed direction and spent three years as a benefits administrator for a couple of big companies. By the time I became team lead, it was my job to resolve the stickiest of benefits problems, and it was then I realized how much I enjoyed customer service and being able to problem-solve and make people happy.
It occurred to me that I could serve people and interact with them more in the health care field, so I started taking prerequisite courses. I completed an RN program through my community college and local hospital, and started working as a nurse in the hospital's cardiac unit. I cared for people who'd just received cardiac catherizations, pacemakers, and stents, and it was an awesome experience. I have nothing but immense respect for hospital nurses, but for me, it didn't satisfy my desire to provide up-close and personal care. Patients came and went, and I never got to spend quality time with them.
I didn't know places like this existed
After a year, I came to BAYADA and I've never looked back. I wanted to switch to home care to get to know patients and serve people holistically—one on one, and BAYADA had a great reputation for that.
Boy, was it the right move for me. Everyone on my care team was so friendly, so supportive. They gave me excellent mentorship and skills training, and opportunities to explore my interests. When I chose to specialize in pediatrics, I received phenomenal training in a pediatric simulation lab and specialty courses where I learned about pediatric diseases, new skill sets, and medical equipment.
Our work culture is really special. We're all about supporting each other to do whatever we can to improve clients' quality of life with compassion, excellence, and reliability. I didn't know places like this existed.
Life as a pediatric home health care nurse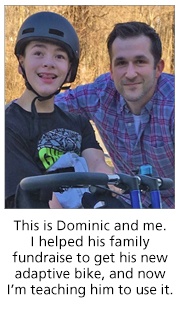 Now, I work exclusively with pediatric clients. My first "little guy" was having 60 seizures a day when I first cared for him. It was so fulfilling to comfort him and his parents through that. Over time, I worked with his family and doctors on his care plan, and eventually, we got him to the point where he was seizure-free and no longer needed home health care. What a feeling. We kicked that disease to the curb!
These days I work with a 15-year-old boy named Dominic; I've been with him since he was nine. He has complex medical issues including cerebral palsy, type 1 diabetes, and limited verbal ability. He's also a ball of energy and has a magnetic personality. He puts a smile on my face every day. I love doing patient education and advocacy, and watching Dominic grow from a boy to a young man. I help him communicate and gain independence with his computer tablet, exercise and strength train, and tool around the neighborhood on his adaptive bike. He is a really special kid, and he and his family motivate me to do great things.
Where to next?
There are great opportunities for career advancement where I work. I could become a clinical manager next, but for now, I like spending more time with my little guys. What I know for sure is that I've landed in the right profession, and no matter what roles I take on, providing home care gives me a sense of purpose and rewards me with seeing my clients' successes. This is where nursing has meaning for me!
About the Author:
Mat Gunkel is a Pediatric Nurse and has worked for BAYADA since 2012.