When I was in high school, I thought a career in the military was my future path. But after joining the JROTC, I quickly realized it wasn't for me. Knowing that I loved caring for people, I volunteered at the hospital as a candy striper and that was it. I fell in love. From that moment, I just knew that I found my passion—nursing. It allows me to be of service to others, which I believe is my gift. And so began my journey to where I am now.
Find out how your journey could lead to BAYADA, too!>>

The long and winding road
After high school, I enrolled in nursing school at Winston-Salem State University. During my first summer back home in Charlotte, I worked in a long-term-care facility as a CNA. When I returned to Winston-Salem that fall, I learned that many of the nursing students were working part-time as home health aides at BAYADA. I quickly jumped at the chance to work for BAYADA, too, knowing that providing one-on-one care was something I would enjoy, compared to my experience working in the fast-paced facility. Little did I know that it was the start of a more than 20-year journey with BAYADA, with lots of twists and turns along the way.
Over the next two years, I worked as much as my school schedule would allow. Being a home health aide was hard work but immensely rewarding. I got to know the clients much better than in the hospital because I had the time to develop relationships. It allowed me to be the kind of caregiver I was taught to be—and wanted to be.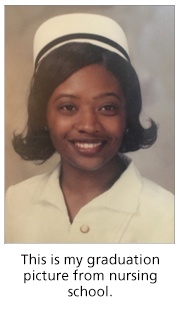 After earning my BSN, I prepared to move back to Charlotte. Melinda Phillips (who was director of the Winston-Salem office then) asked me to keep BAYADA in mind as I moved on with my career. There was no BAYADA office in Charlotte at that time, but it was on the horizon, so Melinda didn't want to lose touch.
Over the next several years, I worked in a hospital, an ALS neuromuscular center, and in travel nursing. In between travel nursing and the ALS center, I came back to BAYADA for a few years as a nursing supervisor in Charlotte—thanks to an unexpected but welcome call from Melinda. All those experiences brought me to a point where I felt it was time once again to re-evaluate what I wanted to do and where I wanted to be.


My heart tugged and I followed it, again… back to BAYADA
Because acute care is so busy, you don't always get to see what happens to clients when they're discharged home. This is where home care nurses can have a big impact. They can help provide better quality of life through helping clients maintain their continuity of care. I love that I can take care of the total person. That's what I learned in school, and that's what I get to do in home care. What we do truly helps them stay safe at home. Because of this, I knew that's where my heart and my future was.
Since I've been back at BAYADA these past 16 years, I've had so many opportunities to contribute to the delivery of excellent care. I became a CRRN (Certified Rehabilitation Registered Nurse) and joined the BAYADAbility Rehab team, helping to support our clinical leaders in caring for our rehabilitation clients. I am now the Director of Clinical Leadership and Development and manage our "White Shoes" and "White Cap" training programs. I am honored to help educate our future nurse leaders. I feel it is part of my gift.
I have worked with amazing people throughout my years here at BAYADA, many of whom are still my mentors. I love working here because my opinion and clinical skills matter. I feel valued. Everyone wants to do an excellent job. It's true. I've seen it. And I want to continue to be a part of it.
About the Author:
Tyke Ingram, RN, BSN, CRRN, is a Director in clinical standards and leadership and has worked for BAYADA since 1994.