A leader is one who knows the way, goes the way, and shows the way.
- John C. Maxwell
The words of John Maxwell are especially relevant for pediatric home care nurses who seek to advance their careers while experiencing the personal gratification that comes from making a difference in the lives of children and families who need them.
Knowing the way
Pediatric home care nurses who have provided exceptional care to clients in the home often hope to advance their careers beyond the bedside to leadership roles in which they can ensure that other nurses will consistently provide the same quality care to their young clients and their families. They know that experience, dedication, critical thinking and decision-making skills are the requisite qualities for nursing leadership. Their experience in the home has taught them that understanding and appreciating a family's reality, culture, and values are paramount. They have demonstrated dedication through reliability, consistency, and compassion. They have used critical thinking skills to solve complex clinical problems and to respond successfully to emergencies.
Going the way
The path to nursing leadership in pediatric home care requires keen communication skills, development of management qualities, and specific educational requirements. Most pediatric home care companies require that clinical managers be registered nurses. Nurses who are pursing goals of further education are particularly attractive to pediatric home care organizations that are looking for new clinical leaders. According to Kathy Pfeiffer, Pediatric Director of Clinical Operations at BAYADA Home Health Care, "Nurses who apply for clinical manager positions must have proficient high-technology clinical skills, be adept at conflict resolution, have exceptional communication skills, and have home care experience as a field nurse."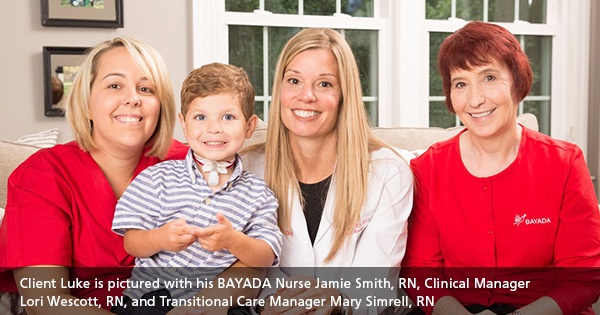 A nurse manager's most valuable skill is effective communication with clients and their families and with other professionals. Effective communication leads to meaningful collaboration that is based on common goals. The ability to manage others is not an innate human quality, but must be taught, learned, and developed. A home care company has an obligation to prepare nurse leaders by offering training, mentoring, and evaluation to the new leader.
Showing the way
Pediatric home care nurses who are ready to assume leadership positions display competency and confidence in their nursing practice. They model the professional values of intelligence, integrity, reliability, compassion, resourcefulness, attention to detail, and energy. They know when to seek help and how to support others. They maintain the highest professional standards and accept nothing less from those they supervise. They take pleasure in the success of others.
Now that you know the way to pediatric home care leadership, let me help you go the way toward clinical management by showing the way with this video.