In 2010, a report from the Institute of Medicine (IOM), The Future of Nursing: Leading Change, presented specific jury-reviewed evidence in support of the benefits of a nurse residency program for new nurses. The IOM report revealed that newly-graduated nurses may gain the knowledge, skills and discipline to graduate from nursing school and to obtain licensure, but additional training beyond an orientation program is required to strengthen a new nurse's assessment, critical thinking and clinical skills. This is particularly important for pediatric home care nurses who care for critically-ill children without immediate access to a medical team.
As more and more chronically-ill children with complex diagnoses such as ventilator-dependence, progressive neuromuscular diseases and congenital anomalies receive care at home, BAYADA Pediatrics recognized the need to recruit and train intelligent new nurses for safe, competent, evidence-based care to support the lives of these children. In 2012, BAYADA Pediatrics convened a team of clinical experts to develop a Pediatric Nurse Residency Pilot Program for new nurse graduates. Essential educational elements, graduate requirements, supports, and monitoring systems were identified. A one-year framework and pathway for the program was developed.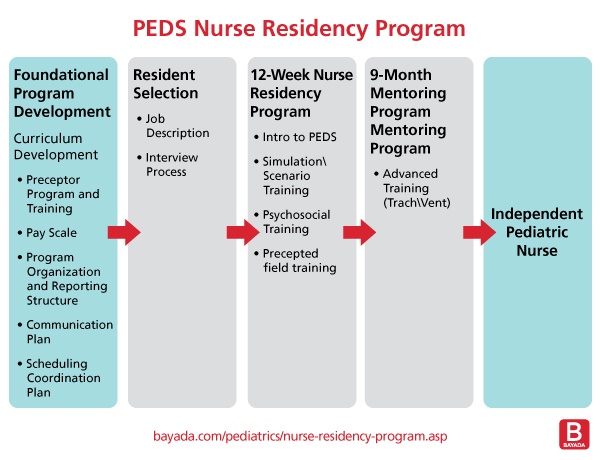 On August 5, 2013, the first class of six newly-graduated nurses began. Three weeks of classroom didactic teaching were followed by nine weeks of additional class work plus field work in client homes overseen by trained nurse preceptors. As the students assumed autonomous care of their clients, each was assigned a nurse mentor for the following nine months to provide professional and personal supports. At the end of one year, all six nurse residents were providing proficient care independently and looking forward to additional advance training to care for the most complex children.
Outcomes and lessons learned from the pilot program were analyzed by the development team. The pilot program has evolved over the past two years into a highly-successful, stream-lined endeavor. Currently, the fourth class of nurse residents is underway. The nurses who have graduated from the nurse residency program are now some of BAYADA Pediatrics' best clinicians and the families they serve are highly satisfied with the care their children receive.
Pediatric clients and their families deserve nurses who demonstrate compassion, professional excellence, and reliability. BAYADA Pediatrics encourages new nurse graduates who are interested in pediatric nursing to consider home health care as a viable and rewarding career option.