Lately, the nursing community has taken to social media to defend its profession after insensitive remarks about nurses were made on television. Nurses are motivated by compassion, intellectual curiosity, and a compelling need to relieve human suffering, and they rarely seek praise and validation from the public. Those we serve validate what we do and their appreciation is our primary source of gratification. But, to the general public, I ask, "Do you realize how difficult it is to become a nurse?" In 2011, the Guinness Book of World Records chose a Bachelors of Science in Nursing (BSN) degree as the toughest degree to obtain among all undergraduate college degrees. They based their findings on the following requirements: 64 university exams, 130 series exams, 174 assignments, and 1,000 working days. And, as a practice, pediatric nursing requires many more hours of specialized training such as a pediatric nurse residency program.
During Pediatric Nurses Week, I want to give a special shout out to those heroes who practice pediatric nursing on the home front!
Pediatric home care nursing requires a professional blend of compassion, problem-solving acumen, humor, and psychosocial insight into family dynamics. To qualify for nursing care at home, a child has to have a significant medical complication that can range from a severe seizure disorder to ventilator-dependence. Pediatric home care nurses have to be comprehensively prepared to provide safe, autonomous care.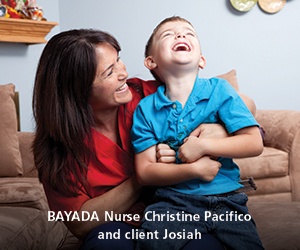 I have had the personal and professional pleasures of having had some amazing pediatric nurses support my ventilator-dependent children in my home for more than 25 years, and I have worked as a pediatric home care nurse as well. From this dual perspective, I know firsthand what constitutes the ideal home care nurse:
High-tech care proficiency—possessing and maintaining the clinical skills to autonomously support the life of a child
Acute critical thinking skills—the ability to accurately evaluate the clinical picture; to explore implications and consequences; and to generate and assess appropriate solutions
Compassion—an all-encompassing kindness, tenderness, awareness, understanding, and deep desire to alleviate another's burden
Appreciation of diversity—to better understand the family caregivers' frame of reference; to reflect on one's own values, beliefs, and traditions; to become more tolerant; to be less judgmental; to appreciate other ways of doing; to add new nursing skills; and to broaden personal horizons
Ability to foster resiliency—to model constructive thinking and the conviction that life can be wonderful in the midst of challenges; to lend support and encouragement; to understand the child's reality; to provide experiences that challenge rather than overwhelm the child's ability to cope; to help develop special interests and activities; and to encourage the child to reach for the outside world to find sources of fulfillment.
Fun-loving—understanding the therapeutic value of humor for children to promote relaxation, distraction, a positive influence on the immune system, pain reduction, a temporary escape from every day challenges, and a positive self-image
Flexibility—open to influence or persuasion, tractable, yielding, mentally malleable, responsive to change, adaptable to environment and other ways of doing, and capable of bending without breaking
A very happy Pediatric Nurses Week to all of those nurses who provide superb care to children and their families, especially those who provide care in a child's home. Your value to them and to the nursing community can never be underestimated.
If you are interested in learning more about pediatric nursing and how you can follow these compassionate nurses' footsteps, contact us today!