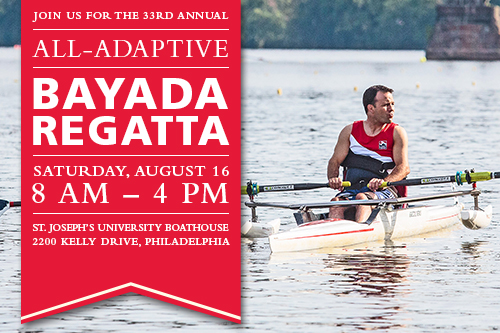 When 17-year-old Brett Leatherwood of Fort Washington, PA told his parents he wanted to "row in a boat," they were astonished. Leatherwood, who has autism, had watched rowers from the banks of the Schuylkill River, including his older brother Donald, for years, but never showed interest in participating. However, thanks to his family and Philadelphia Adaptive Rowing (PAR), Leatherwood, now 21, has been able to not only 'row in a boat,' but compete for four consecutive years in the BAYADA Regatta.
Now in its 33rd year, the BAYADA Regatta is the oldest and largest all-adaptive regatta in the U.S. It will take place on the banks of the Schuylkill River on Saturday, August 16 from 8am to 4 pm at St. Joseph's University Boathouse, 2200 Kelly Drive in Philadelphia.
"When Brett first started rowing, he was very quiet, wouldn't look the volunteers in the eyes, did a lot of self-talking, and kept to himself," said his mother, Jeanne. However, as Leatherwood continued his involvement in rowing, she said, "his confidence grew and his interactions with the volunteers and rowers increased."
Margaret (Peggy) Seelaus, 55, a resident of Drexel Hill, PA, says she is committed to rowing for life, despite having multiple sclerosis and needing a cane to walk. Seelaus began rowing with PAR in 2007, after driving a friend to rowing practice and being asked to join.
"The freedom I feel when rowing on the river is important to me as my walking gets worse," she said. "I can be just as good as anyone else out there. Rowing is something I never could have done if it weren't for PAR, and I'm so grateful for that."
This will be her second BAYADA Regatta, and she is determined to improve her performance from last year. "I never wanted this disability," she said, "but I'm thankful that is has exposed me to wonderful things like rowing and the BAYADA Regatta."
Neither Leatherwood nor Seelaus could enjoy the opportunities they've been given without the dedicated PAR volunteers who make it all possible. Madelyn (Lynn) McGillin of Strafford, PA has been working with PAR for 32 years and is a board member of its parent organization, Pennsylvania Center for Adaptive Sports. She has been involved with each and every BAYADA Regatta. A rower herself for 35 years, McGillin trains new rowers and volunteers, and acts as a rowing partner for anyone who wants to row.
"PAR is a place of friendship and love," she said. "It's a place where everyone can share their love of sports, on a river that is barrier-free. But most importantly, it's fun!" McGillin will join a group of more than 100 people who volunteer their time throughout the year and on race day, to make the BAYADA Regatta a reality.
In the BAYADA Regatta, athletes from more than a dozen rowing clubs across the country—who are classified according to their physical or visual impairment—compete in events for novice, veteran, and youth rowers. The BAYADA Regatta event is hosted by Philadelphia Adaptive Rowing (PAR), part of the Philadelphia Center for Adapted Sports. PAR provides recreational and competitive rowing opportunities for people with disabilities.
Sponsored solely by BAYADA Home Health Care, the BAYADA Regatta is free and open to the public. Medals will be awarded to the athletes throughout the day. Music, crafts, and refreshments will be provided. Visit www.bayada.com/regatta for more information.