Spinal muscular atrophy (SMA) is a disease that causes muscle weakness and can impact one's ability to move, walk, eat, or breathe. The condition is caused by a genetic mutation that impairs the production of a protein that is essential to the normal function of motor nerve cells in the spinal cord. People with SMA can experience varying degrees of symptoms and disabilities.
Diagnosis of SMA
About 1 out of 11,000 babies is born with spinal muscular atrophy. It may be diagnosed in infancy, later in childhood or the teen years, and rarely, even in adulthood. Symptoms that usually lead to an SMA diagnosis are problems or delays related to muscle wasting (atrophy)—difficulty with activities such as rolling over, sitting up, crawling, standing, walking, breathing, swallowing, or head and neck control. SMA also increases one's risk of respiratory infection.
SMA can be diagnosed by prenatal testing, genetic testing, or a newborn screening. If a doctor suspects SMA, a simple blood test can identify 95 percent of all cases. To detect or rule out the other 5 percent of rarer genetic mutations, a patient may be referred to a neurologist.
Could I be a SMA carrier?
Prospective parents may wonder if they have a higher probability of having a child with spinal muscular atrophy.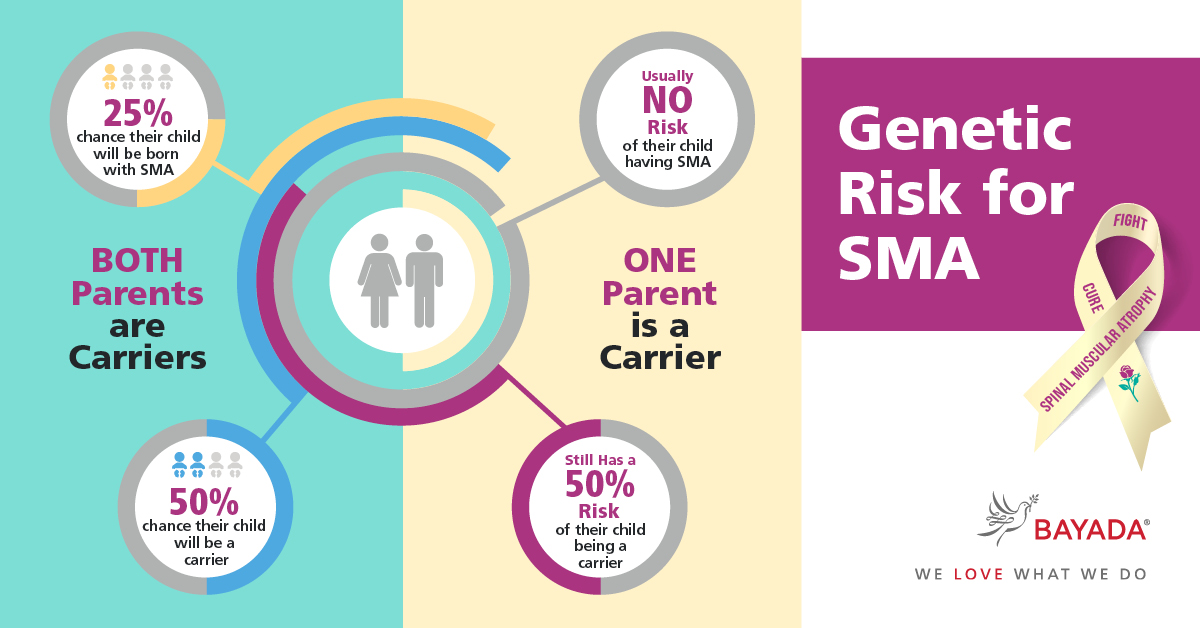 A DNA test can determine if you are a SMA carrier. 95 percent of cases are detected by a simple blood test, but there's a rare mutation that is more prevalent in the African American population that may require further screening to detect. Saliva testing may be a possible alternative to blood testing.
Four Types of Spinal Muscular Atrophy
The type of SMA one has is determined by the age of onset (when you first noticed symptoms) and the level of developmental milestones achieved.
SMA Type I, also known as Werdnig-Hoffmann disease, is the most common and the most severe, usually diagnosed in the first six months of life. The patient diagnosed with this type of SMA may face many physical challenges, and may require breathing assistance or a feeding tube.
SMA Type II is usually diagnosed between the ages of six months and two years. Children with this diagnosis experience delayed or impaired motor function and are unable to walk.
SMA Type III, also known as Kugelberg-Welander disease or juvenile SMA, is usually diagnosed between the ages of 18 months and three years. Children with this diagnosis are initially able to walk, but that ability declines over time.
SMA Type IV is very rare and is the only form of the disease that presents itself in adulthood. Symptoms of mild motor impairment may be seen at the age of 18, although they are more common after the age of 35.
A few more rare forms of spinal muscular atrophy are caused by unique genetic mutations: spinal muscular atrophy respiratory distress (SMARD), distal SMA (affecting hands and feet), and Kennedy's disease (affecting only males, usually in adulthood).
Treatment and Therapies
Although there is no cure for SMA, many individuals with this diagnosis can enjoy long, fulfilling lives with quality health care, symptom management, and the use of assistive devices. In 2016, the first and only treatment for SMA was approved by the US Food and Drug Administration: Spinraza, a pharmaceutical therapy that targets the genetic cause of SMA. Research continues to find more breakthroughs to treat and ultimately cure this disease. Follow www.curesma.org for the latest news and educational resources.
What Kinds of Home Health Care are Available for SMA?
BAYADA Home Health Care offers a wide range of nursing, therapeutic, and assistive care services for clients of all ages with spinal muscular atrophy. We carefully match each client with a care team of professionals who have the experience to help individuals with SMA—and their loved ones—live safely and achieve their best quality of life in the comfort of home.
BAYADA clinicians with specialized SMA training provide a wide-range of services that include:
Age and diagnosis-specific care tailored to each client's needs
Mobility assistance, including the sourcing and proper use of wheelchairs, walkers, and other assistive devices
One-on-one care at school, including transportation, activities, and field trips
Assistance with personal care needs
Assistance with verbalization and communication devices
Therapeutic play, range of motion, and exercise
Respiratory care
Seizure precautions and seizure care
Enteral feeding and feeding tube care
Tracheostomy and ventilator care
To learn more about how BAYADA's specially trained clinicians can help children and adults with SMA achieve the highest quality of life at home, call 800-305-3000 or visit bayada.com/pediatrics.