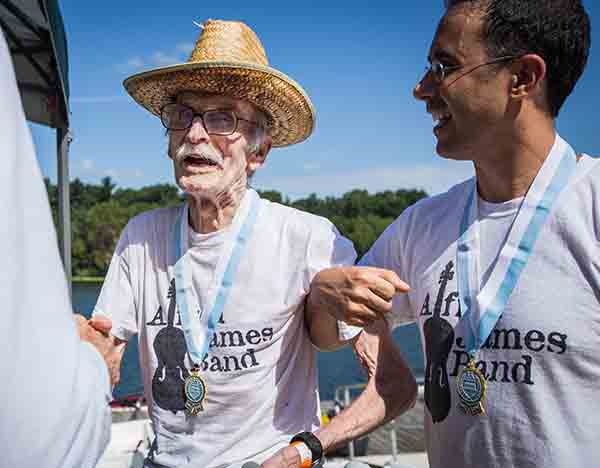 Dr. Ned Goodrich accepts his medal with his son, Alfred
With the heat index hovering around 110 degrees, retired surgeon Ned Goodrich brought a whole different kind of heat to the 35th annual all-adaptive BAYADA Regatta on Saturday, August 13, 2016. The 91-year-old from Ardmore placed first in his race. For him, rising above daunting challenges has become a way of life, and he has faced much more serious opponents in the past.
He's battled three kinds of cancers, a heart attack, and a series of small strokes, but it was a massive stroke in 1980 that left him unable to continue his practice. After years of therapy, he was able to regain his motor skills. Rowing was one of the activities that helped him get stronger, and he continues to row each day in his basement.
Although rowing had helped him after a series of complicated health challenges, it was not his friend last year when he placed third in his race at the BAYADA Regatta. His son Alfred recalled, "It was a very long and quiet car ride home!"
With the same determination and positive attitude that helped him overcome the many obstacles life has presented him, he claimed victory once again. "Third place was unacceptable," he said of his performance last year. With his son smiling beside him, Goodrich stepped up to accept his medal and declared, "See what determination can do for you!"
Prior to his massive stroke in 1980, the accomplished surgeon completed the first successful canine liver transplant. It was his research that was used to further the understanding of transplants in humans.He also served in World War II and received a Silver Star.
Despite all of his accomplishments, he describes himself humbly as "5'7'', 118 pounds, and shrinking every year."
Currently three years into a two-month prognosis with his fourth cancer (bilateral lung cancer), his positive outlook keeps him enjoying each day and looking forward to the next. We expect to see him back at the Regatta again next year with that same unstoppable spirit.
About the BAYADA Regatta
Founded in 1981 on the banks of the Schuylkill River in Philadelphia, the BAYADA Regatta is the nation's oldest and largest all-adaptive rowing event for athletes with disabilities. This year's competitors ranged in ages from 15 to 91 and were classified according to their physical, visual, or intellectual impairments. Medals for novice, veteran, and youth events were awarded to athletes throughout the day.
This year's event was sponsored by BAYADA Home Health Care and United Healthcare, hosted by Philadelphia Adaptive Rowing (PAR), part of the Philadelphia Center for Adapted Sports (PCAS.)