Brandi Gerig wins the prestigious Ann Baiada Excellence in Nursing Leadership Award
BAYADA Clinical Manager Brandi Gerig was recently chosen from among hundreds of clinical leaders to win the Ann Baiada Excellence in Nursing Leadership Award by BAYADA Home Health Care, a leading non-profit home health care provider. Gerig, who works for BAYADA's Lancaster, PA Pediatrics office, was selected for the award as a living example of the company culture and someone whose powerful presence brings out the best in others.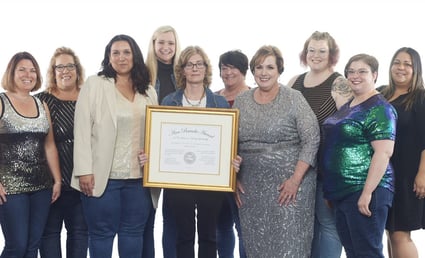 Gerig, who has been with BAYADA for 20 years, has made an incredible impact on hundreds of clients and their families. Nominators called her the "office rock," the "moral compass" and a personal inspiration to multiple coworkers.
Faith Titus, the mother of one of Gerig's clients, praised Gerig's commitment to the Titus family and their daughter, Shirley, who suffered from seizures and neurological events each day. When Faith became pregnant with her son, Gerig jumped to action to support the family and ensure that Shirley would remain safe and cared for during the birth of her brother. After Shirley passed away when her little brother was only seven weeks old, Gerig was a constant source of support for the family.
"Brandi exemplified deep, compassionate care and excellence in all she did," said Titus. "I could trust her fully and know that she would be with us in what we needed. I attribute so much of the quality of life we had to Brandi's care and help in navigating the nurses who loved Shirley dearly."
Gerig accepted the prestigious award from BAYADA Director of Clinical Standards & Leadership Marie Blessington at the company's annual awards meeting held in Washington, D.C., on Saturday, May 21.
"Everything that I do on a daily basis is not for me, it's for my clients and my nurses," Gerig said as she accepted the award. "I put myself in their shoes every day, and I don't blink an eye at what I have to do. I love my office and the support that they give, and I am so grateful for them and the work I get to do each day."
BAYADA Pediatrics provides nursing care at home and school for children from birth through adolescence with a wide range of complex medical needs. Nurses receive age and diagnosis-specific training, including tracheostomy and ventilator care.
The Ann Baiada Excellence in Nursing Leadership Award
The Ann Baiada Award for Excellence in Nursing Leadership was established in honor of Ann Baiada's countless contributions to BAYADA Home Health Care. Baiada was one of BAYADA's earliest directors—an RN and certified rehabilitation registered nurse leader instrumental in the creation of the company's BAYADA Rehab Solutions program.
This award is given annually to celebrate and acknowledge one outstanding BAYADA clinical leader who exemplifies Baiada's legacy to empower, inspire, and support their fellow nurses and those whose lives they touch at BAYADA, and embodies our core values of compassion, excellence, and reliability.