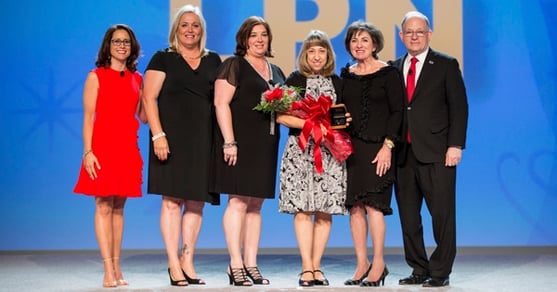 Pictured during BAYADA's annual Awards Weekend in Philadelphia, PA are (from l to r) National Hero Committee Chair Jackie Kirchhoff; Director of the Rock Hill South Carolina BAYADA office Amy Ramey; Client Services Manager Jenni Cairns; LPN Hero of the Year Cathy Medeiros; BAYADA Director Ann Baiada and BAYADA President and Founder Mark Baiada.
Catherine Medeiros, LPN, was recognized as the national Licensed Practical Nurse (LPN) Hero of the Year by BAYADA Home Health Care, a leading provider of in-home care. Chosen from among thousands of nominees, Medeiros accepted the prestigious award for exemplifying the highest standards of care before more than 2,300 employees at the company's annual awards meeting held on June 3 in Philadelphia, PA. The award was presented by BAYADA President and Founder Mark Baiada.
"Cathy provides each of her pediatric home care patients with a safe, loving, and stimulating environment where they can achieve success and live the best life possible," said Amy Ramey, director of the BAYADA Pediatrics office in Rock Hill, SC. "Cathy understands her patients on an emotional level. Combining her nursing skills with this intimate understanding, Cathy inspires her patients to want to make progress. When Cathy enters a home, both her patients and their families light up as if she is one of their own."
Sam Dollyhigh of Fort Hill, SC couldn't agree more. Medeiros cares for his son Archer, 6, who sustained a traumatic brain injury in a tragic car accident three years ago. His wife, Laura, also sustained catastrophic injuries in the accident, and she remains in facility-based care.
Following the accident, Dollyhigh set up residence at the hospital, and didn't go home until six months later when Laura was transferred to a long-term care facility and Archer was ready for discharge.
"When they told me I was going to take him home, I was petrified," shared Sam. "Archer couldn't sit, he couldn't stand or walk, he couldn't hold anything, couldn't pick anything up, and he was tube fed. I just didn't know how I was going to take care of him."
Fortunately, Medeiros came into their lives.
Three years later, Archer is walking around, playing, laughing, and wrestling with his father. "Nobody knows how to take care of Archer as much as Cathy does, including me," said Sam. "She helps us in so many ways. There is nobody I would trust as much as Cathy to watch my son while I'm at work. We're just really, really lucky that we found her because if it weren't for her, I really don't know where we would be."
Archer is one of dozens of children who have benefitted from care by Medieros during her 18-year tenure at BAYADA. According to Ramey, Medieros had provided almost 37,000 hours of care to her patients. "When she's not covering her regular shift, she's likely filling in for a call-out," said Ramey. "She even keeps a set of scrubs in her car for such emergencies. Her habitual response to requests for help is, 'it isn't about me today'."
Medieros found it hard to believe that she had been named LPN Hero of the Year and got to travel to Philadelphia to meet BAYADA President and Founder Mark Baiada. "I just do the job that I love to do," she said. "Knowing that I'm making a difference in a child's life, that pretty much makes my day."
BAYADA Pediatrics provides nursing care at home and school for children from birth to adolescence with a wide range of complex medical conditions.
Established in 1999, the BAYADA Hero of the Year Program recognizes home health care professionals who consistently demonstrate the company's core values of compassion, excellence, and reliability. Each quarter, patients and peers nominate their local heroes. From the local heroes, division heroes are selected and ultimately four national heroes are chosen among five disciplines: registered nurse, licensed practical nurse, therapist, home health aide, and social worker. The four national heroes are recognized at the annual awards ceremony.