Eugenia VanBoven is BAYADA's 2023 LPN National Hero of the Year
BAYADA Nurse Eugenia VanBoven was recntly selected from a pool of exceptional candidates as the BAYADA 2023 Licensed Practical Nurse (LPN) National Hero of the Year by BAYADA Home Health Care, a leading, national nonprofit home health care provider. VanBoven, who works for BAYADA's Allentown, PA office, was selected as a Hero for her skill and outstanding compassion, excellence, and reliability as a pediatric home care nurse.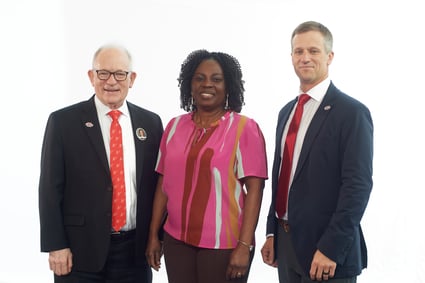 VanBoven has worked with BAYADA Pediatrics for ten years, and the positive impact she has on clients' lives has made her loved by all. Young clients like Alan Hockenberry, who faces the challenges of autism and epilepsy, have benefitted greatly from VanBoven's therapeutic nursing care, as she's been instrumental in helping them gain confidence and independence.
Fondly known as "Ms. Genie" by the Hockenberry family, she immediately took the time to learn how Hockenberry experiences the world to determine what he can and can't do, encouraging him to do what he can.
Mark, Hockenberry's father, notes that VanBoven is always willing to take the extra step to empower his son: "With Alan, you have to walk with him, so it's not easy to let him be independent because that means you have to do more work. Him being independent means you have to get up, and you have to show him, and you have to help him. Genie's always willing to do that because she knows it's better for him."
VanBoven forms genuine bonds and uses games, songs, and surprises to connect with her clients and their families. If VanBoven has a superpower, it's definitely empathy, according to those who work with her closely.
"Genie is amazing," said BAYADA Clinical Manager Lori Cooper. "She does things from her heart, not because she has to. You can tell he feels her love."
Now, the Hockenberrys are returning the sentiment. Mark notes that it isn't uncommon to hear "I love you, Ms. Genie" ring through the house when she and Alan are together.
VanBoven received the prestigious award at BAYADA's annual awards meeting held in Washington, DC, on Saturday, May 20. She was as warm and humble as always when accepting her honor.
"I must thank BAYADA as an organization for the exposure I get from my clients, for the skills that I have learned, and for the friendships we have; we are like a family," VanBoven said. "I appreciate this high honor; I cannot fathom that it was for me. I am a nurse; this is what I am supposed to do."
What makes Eugenia VanBoven a Hero

BAYADA Pediatrics provides nursing care at home and school for children from birth through adolescence with a wide range of complex medical needs. Nurses receive age and diagnosis-specific training, including tracheostomy and ventilator care.
BAYADA Home Health Care Hero Program
The National Hero of the Year Award is part of BAYADA's Hero Program, which recognizes and rewards those who exceed the highest standards of quality care and work ethic at an office, division, and national level. Heroes can be nominated by their colleagues and clients. All BAYADA employees and clients can nominate any registered nurse, licensed practical nurse, home health aide, therapist, or other professional caregivers.
Visit bayada.com for more information about home health care services, or to join BAYADA's community of compassionate caregivers apply today at jobs.bayada.com.