Kim Den Bleyker is BAYADA's LPN Hero of the Year
BAYADA LPN Kim Den Bleyker was recently chosen out of thousands of hopefuls as the national Licensed Practical Nurse (LPN) Hero of the Year by BAYADA Home Health Care, a leading non-profit home health care provider. Den Bleyker, who works for BAYADA's Willow Grove, PA Pediatrics office, was selected as a Hero for being the "best of the best," building special bonds with everyone she serves and making life better for countless children and families living with serious illness or disability.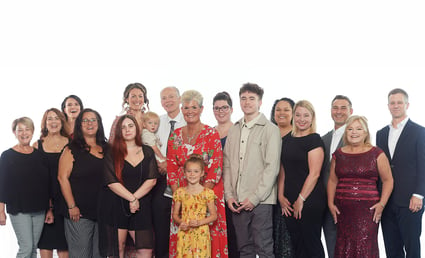 Den Bleyker, who has been an LPN with BAYADA for 23 years, was praised for her fun approach to therapeutic exercises and her willingness to try new things to help children with chronic medical conditions develop new skills and "enjoy being a kid". Her mission to "love them up" and lighten their burdens has made Den Bleyker a fairy godmother to her clients and families, sprinkling each life with her unique, magical recipe of fun.

Over the past two decades, Den Bleyker has touched the lives of numerous clients, including Jax Penhollow, a six-year-old pediatric patient with mitochondrial disease, myoclonic epilepsy, and microcephaly. In her nomination Jax's mother, Maria Penhollow, expressed her appreciation for Den Bleyker, praising her top-notch care.

"She's one of a kind. I have never met anybody like her," said Penhollow. "She truly cares about her job, and she comes to work always with a list of things she wants to get done."

Den Bleyker accepted the prestigious award for exemplifying the highest standards of care at the company's annual awards meeting held in Washington, D.C., on Saturday, May 21. The award was presented by Lindsey Sykes, Director of the Willow Grove office.

"A hero is someone who makes life better for others. When you meet Kim, you know you are experiencing something extraordinary. One of the most selfless people I know, her heart is always open with kindness, acceptance, and happiness," said Sykes. "No matter who you are, Kim will make sure you feel you are supported, and above all, you are loved."
What makes Kim Den Bleyker a Hero
"It is an honor to receive this award. I would like to thank my own wonderful family, the amazing families of the children I work with, and my Willow Grove Peds family," said Den Bleyker. "Mostly, I would like to thank the children whom I have cared for and loved through the challenges they face every day. They have challenged and pushed me to do my very best on their behalf."

BAYADA Pediatrics provides nursing care at home and school for children from birth through adolescence with a wide range of complex medical needs. Nurses receive age and diagnosis-specific training, including tracheostomy and ventilator care.
BAYADA Home Health Care Hero Program
The Hero of the Year Award is part of BAYADA's Hero Program, which allows the company to recognize and reward those who exceed the highest standards of quality care and work ethic at an office, division, and national level. Heroes can be nominated by their colleagues and clients. All BAYADA employees and clients can nominate any registered nurse, licensed practical nurse, home health aide, or other professional caregivers.
For more information about home care services or to join BAYADA's community of compassionate caregivers, visit bayada.com.