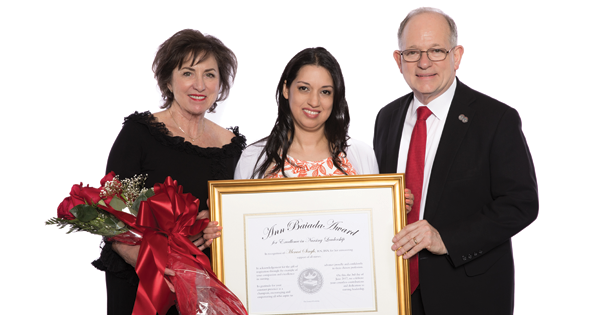 Merari Singh, RN, BSN (center) accepts her Ann Baiada Award from BAYADA Founder and President, Mark Baiada, and his wife, Retired Director Ann Baiada.
Clinical Nurse Manager and North Brunswick, NJ, resident Merari Singh, RN, BSN received the Ann Baiada Award for Excellence in Clinical Leadership from BAYADA Home Health Care. The prestigious award recognizes a clinical leader who exemplifies Director Ann Baiada's legacy to "empower, inspire, and support" every person whose life is touched by BAYADA, and the company's core values of compassion, excellence, and reliability.
At a BAYADA Awards Weekend event at the Philadelphia Convention Center in June, Singh's family watched as she was honored on stage for exemplifying the highest standards of clinical excellence before an audience of more than 2,500 employees and others. Singh addressed her children in the audience saying, "Work hard and you can be here too."
Since she started at BAYADA in 2011, Singh has been known for advocating for her clients and nurses, and dropping whatever she's doing to take a call or make a home visit. Because of her excellent reputation, BAYADA leaders sought out Singh to manage another office that needed help. Her coworkers describe her as a mentor with boundless energy, integrity, and understanding. They say they feel privileged to work with Singh, in part, because she's always available to anyone who needs her, and she always goes the extra mile to maintain high morale.
To some, nursing is a career, but to Singh, it's a calling. Her Director Alesha McCall, who nominated Singh, recalls a time Singh worked for three hours the night before an early flight to make sure her client made a smooth transition from discharge to home. "Merari was going on vacation in the morning and hadn't even packed yet! But she is always there for her team," McCall declares.
A BAYADA client's daughter says, "I will never forget her or the kindness and respect she has shown my mother. She is one of those rare individuals who's always exceeding her own personal best. She works miracles, making sure my mother receives the best care, and I trust her implicitly."
Singh felt honored to receive the Ann Baiada Award, saying, "I love what I do, every day. I'm so grateful to make lives a little better than the day before, and to empower clients and their families to keep striving for better days ahead."