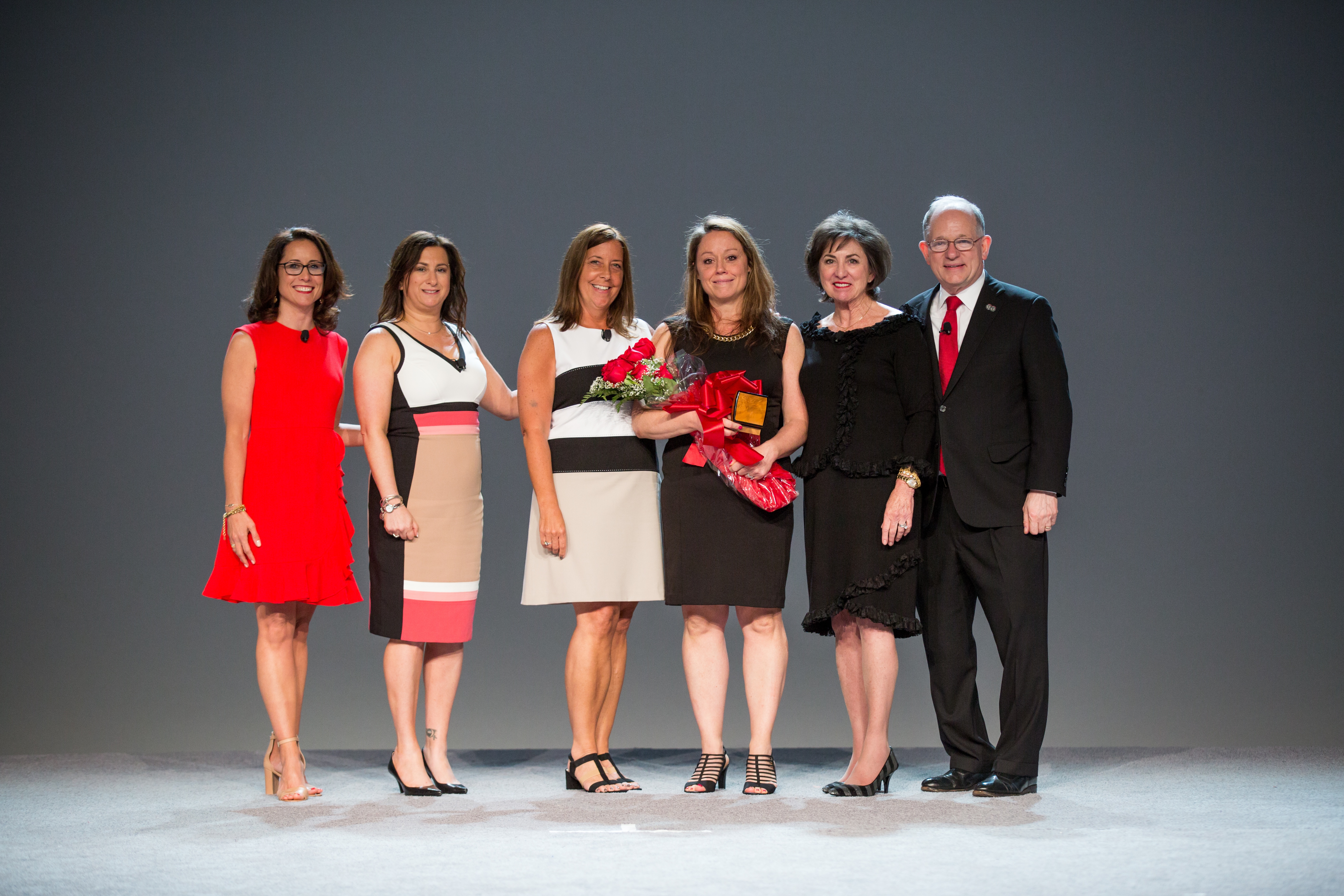 Pictured during BAYADA's annual Awards Weekend in Philadelphia, PA are (from l to r) National Hero Committee Chair Jackie Kirchhoff; Director of the BAYADA Pediatrics Burlington County, NJ office Bari Behr; Client Services Manager Michelle Moran; RN Hero of the Year Rachel Gotshall; BAYADA Director Ann Baiada; and BAYADA President and Founder Mark Baiada.
Rachel Gotshall, RN, was recognized as the national Registered Nurse Hero of the Year by BAYADA Home Health Care, a leading provider of in-home care. Chosen from among thousands of nominees, Gotshall accepted the prestigious award for exemplifying the highest standards of care before more than 2,300 employees at the company's annual awards meeting held on June 3 in Philadelphia, PA. The award was presented by BAYADA President and Founder Mark Baiada.
"When Rachel provides care, she cares for the whole person, not just their medical needs," said Bari Behr, director of the Burlington County BAYADA Pediatrics office. "She loves to engage her patients with their favorite toys and make them laugh. She never lets tubes, wires, or machines get in the way of making each child feel safe, comfortable, and loved."
Randi and James Cook, of Maple Shade, NJ couldn't agree more. Gotshall cares for their son Austin, 6, who has weakened muscles due to myopathy, a disease in which the muscle fibers do not function properly.
"I don't worry when Rachel is with him," said Randi. "She doesn't treat him like a child with low muscle tone and a ventilator, but like a normal child. She is a hero for my family. Rachel, thank you for everything you do. We would be so lost without you. We love you."
According to Behr, since Gotshall's start at BAYADA Pediatrics in 1999, she has clocked more than 30,000 hours with 34 different patients. This wealth of experience laid the groundwork for her excellence in teaching, mentoring, and orienting her fellow clinicians. She has also become part of the family for many of her patients, celebrating with them at the happiest of times and sharing love and support when they are faced with overwhelming grief.
"One of Rachel's first patients was a young man named Danny who had cerebral palsy and Duchenne muscular dystrophy," said Behr. "The night that Danny passed away, Rachel's compassion and kindness helped his parents, Bob and Margie Blasucci get through such a devastating loss."
While the Blasuccis, of Cinnaminson, NJ, were heartbroken when their son passed away, they are grateful that Gotshall remains in their lives, providing care to Danny's older brother, Adam, who also has Duchenne muscular dystrophy.
"You are the nurse of the year every year," said Bob Blasucci. "You are a part of our family."
For Gotshall, learning she had been nominated by her patients and colleagues as the RN Hero of the Year was one of the most humbling experiences of her life. "The letters that the families wrote just touched my soul," she said. "To be recognized to that magnitude is just beautiful."
Reflecting on her 18-year career with BAYADA, Gotshall wouldn't trade it for the world. "I have cared for little ones who jump in your lap and they tell you that they love you and you can see it in their eyes how much you mean to them, and it's just heart-warming," she said. "I can make a difference. I can keep a child at home. I can help them go to school. I truly love what I do."
BAYADA Pediatrics provides nursing care at home and school for children from birth to adolescence with a wide range of complex medical conditions.
Established in 1999, the BAYADA Hero of the Year Program recognizes home health care professionals who consistently demonstrate the company's core values of compassion, excellence, and reliability. Each quarter, patients and peers nominate their local heroes. From the local heroes, division heroes are selected and ultimately four national heroes are chosen among five disciplines: registered nurse, licensed practical nurse, therapist, home health aide, and social worker. The four national heroes are recognized at the annual awards ceremony.