Mary Jane Williams is BAYADA's RN Hero of the year
BAYADA Registered Nurse (RN) Mary Jane Williams was recently chosen out of thousands of hopefuls as the national RN Hero of the Year by BAYADA Home Health Care, a leading non-profit home health care provider. Williams, who works for BAYADA's Gastonia, NC Adult Nursing office, was selected as a Hero for giving all she has—and then some. Known among her colleagues for her reliability and compassion, Williams goes above and beyond to provide exceptional care.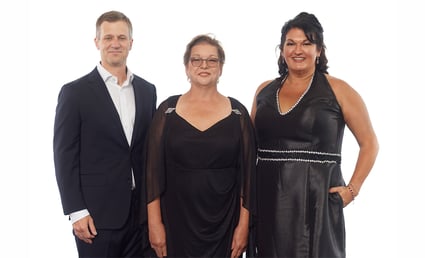 Williams has worked for BAYADA for the past 12 years, and exemplifies the company's philosophy, known as The BAYADA Way. According to Williams' Hero of the Year nomination, she is a fierce advocate for her clients, she never settles for doing things the easy way—she does them the right way. To her clients, Williams is much more than a skilled, patient night nurse. She has taken a personal interest in every client, becoming their friend and confidant, learning their interests, understanding their dreams, and bringing a sense of normalcy and joy in any way she can.
"She's simply the best and her passion for work knows no bounds. Mary Jane has a calm, healing nature. She walks into any situation and gives 100% every shift, every time," said Kim Helton, LPN, who nominated Williams. "Families say, 'We love Mary Jane. We wish we could have her every day.' Her loving care and personal touch have transformed the lives of her patients and their families".
Over the last 12 years, Williams has touched the lives of numerous patients, including her client and friend, Dimpal Patel, who has muscular dystrophy. Diagnosed at age five, Dimpal now requires more help in her daily life. Acting as a caregiver and mother figure, Williams not only provides medical care, but helps Dimpal nurture her scrapbooking hobby as well. Helping Dimpal transition to a hospital bed, Williams has played a critical role in her at-home journey.
"Mary Jane is always encouraging me to do the best I can," said Dimpal. "When Mary Jane comes for our visits, it doesn't feel like it is a nurse visiting. It is like part of the family is coming to work with me."
Williams accepted the prestigious award for exemplifying the highest standards of care at the company's annual awards meeting held in Washington, D.C., on Saturday, May 21. The award was presented by Senior Manager Strategic Talent Partner Megan O'Shields, who previously served as director of the Gastonia office.
"Mary Jane is a purple unicorn. Not only is she a night shift nurse, but she is also trained to provide tracheostomy and ventilator care. For the past 12 years, Mary Jane has exemplified everything you hope to find in a BAYADA Nurse," said O'Shields. "An expert at client care, you set the course for Mary Jane, she makes it happen! I can't think of anyone more deserving of this award."
"I am so humbled and honored to be chosen as BAYADA's RN Hero of the Year. I've worked as a nurse for over 40 years, and have never been recognized before," said Williams. "I love BAYADA, my clients, and office team, and am so thankful for their unwavering support. The BAYADA Way drives everything we do, and I am proud to be part of it."
What makes Mary Jane Williams a Hero
BAYADA Home Health Care Hero Program
The Hero of the Year Award is part of BAYADA's Hero Program, which allows the company to recognize and reward those who exceed the highest standards of quality care and work ethic at an office, division, and national level. Heroes can be nominated by their colleagues and clients. All BAYADA employees and clients can nominate any registered nurse, licensed practical nurse, home health aide, or other professional caregivers.
For more information about home care services or to join BAYADA's community of compassionate caregivers, visit bayada.com.