Rich Magnuson is BAYADA's RN Hero of the Year
BAYADA Registered Nurse (RN) Rich Magnuson was recently chosen as the BAYADA 2023 RN National Hero of the Year by BAYADA Home Health Care, a leading, national nonprofit home health care provider. Magnuson, who works for BAYADA's Willow Grove, PA Pediatrics office, was selected as a Hero for his exceptional nursing skills, empathic nature, and ability to connect with people. Rich is known among his colleagues for empowering his clients by emphasizing what they can do rather than what they can't do.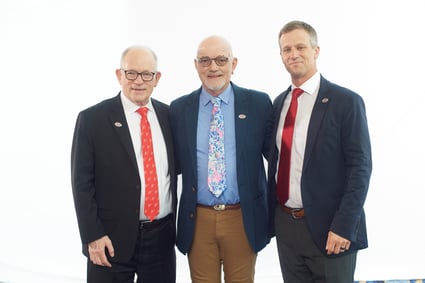 Magnuson has worked with BAYADA for nearly 16 years and his unique approach to care and therapy truly sets him apart. Laughter soon follows when Magnuson is with his clients, using music and games to connect and bring a little extra joy to their lives. To his clients, Magnuson is more than a caregiver, he's a friend whose genuine interest engenders a sense of normalcy in addition to care.
"I love what I do because I do feel I'm making even a small positive impact on somebody's life," Magnuson said.
The impact of Magnuson's work on clients like Tom Porreca, who requires 24-hour care due to Smith-Lemli-Opitz syndrome, is immeasurable and potentially life-changing. Several years ago, Magnuson, who worked as a recreation therapist, connected with Porreca at a school for children with disabilities. He made it his mission to find engaging activities for Porreca, eventually leading him to a horseback riding program.
This experience provided Porreca with a new perspective, as he sat up above people for the first time, transforming his outlook on life. To this day, videos of Porreca's horse rides are cherished by the family.
"It's really important for Rich to have Tom involved in the community for his well-being, his mental health, his happiness," explained BAYADA Clinical Manager Ann Jackson. "Rich emphasizes not what a client can't do, but rather figuring out what they can do."
Maryanne, Porreca's mother, added, "His ability to read people and his desire to work along with people...you put all those things together and you have someone who is beyond just a nurse."
Magnuson received the prestigious award at BAYADA's annual awards meeting held in Washington, DC, on Saturday, May 20.
Reflecting on his feelings about his work, Magnuson shares, "When I'm with someone like Tom who has such difficult challenges and yet they laugh—that little thing has given me such an appreciation for the little things and an appreciation for life. I love what I do because I do feel I'm making even a small positive impact on somebody's life."
What makes Rich Magnuson a Hero
BAYADA Home Health Care Hero Program
The National Hero of the Year Award is part of BAYADA's Hero Program, which recognizes and rewards those who exceed the highest standards of quality care and work ethic at an office, division, and national level. Heroes can be nominated by their colleagues and clients. All BAYADA employees and clients can nominate any registered nurse, licensed practical nurse, home health aide, therapist, or other professional caregivers.
Visit bayada.com for more information about home health care services, or to join BAYADA's community of compassionate caregivers apply today at jobs.bayada.com.