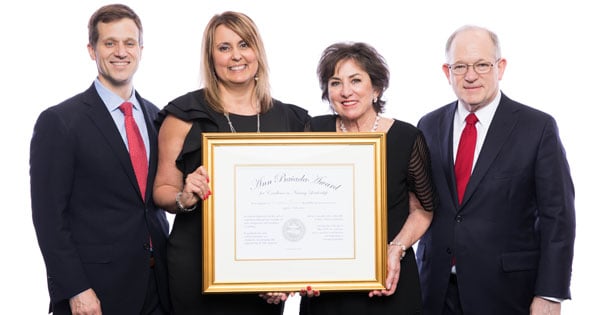 Pictured are BAYADA CEO David Baiada, Cristina Gomes, former BAYADA Director Ann Baiada, and BAYADA Chairman Mark Baiada
Cristina Gomes, BSN, RN, a clinical manager with BAYADA Home Health Care, was recently recognized with the prestigious Ann Baiada Award for Excellence in Nursing Leadership. Gomes was honored for exemplifying the highest standards of nursing excellence before more than 2,000 employees at the company's annual awards meeting held in Charlotte, NC.
"It is an honor to be the recipient of this year's Ann Baiada Award," said Gomes as she accepted the recognition from the award's namesake, former BAYADA Director Ann Baiada. "Thank you to my BAYADA family for believing in me, for pushing me to be the best, and for making it so enjoyable to come to work every day."
Since joining BAYADA in 2014, Gomes has used her clinical expertise to ensure the company's youngest patients with complex medical needs are able to remain in the comfort of home, surrounded by their families. Recognizing the need for a steady pool of highly skilled nurses to care for these children, Gomes serves as a mentor and clinical educator. She trains nursing students as well as recent nurse graduates enrolled in the BAYADA Pediatrics Nurse Residency Program, an intensive, year-long program designed to transition nursing students to a professional role in pediatric home care.
"It is amazing to be given the opportunity to provide education to new nurses and it is awesome to see them be confident and comfortable when they go to work independently," said Gomes, who thanked BAYADA Chairman Mark Baiada and BAYADA CEO David Baiada for their commitment to clinical excellence. "And to everyone who took the time to write your kind words about me, I will treasure those nominations forever."
BAYADA Director Ashley Sadlier was thrilled but not at all surprised when Gomes was announced as the winner from among the company's best clinicians across the country. "Cristina is my co-pilot," she said. "Our consistent success would not be possible without her enormous contributions. She is the secret sauce of our Rhode Island office."
BAYADA Client Services Manager Michelle Thibault agrees. "Cristina's presence in any room, no matter the circumstances, instantly lifts the mood," she said. "Her humble nature prevents her from seeing what a spark she is."
The Ann Baiada Award, a tribute to BAYADA Director Ann Baiada, RN, CRRN, was established in 2006 to honor nursing leaders who are true role models and who are committed to excellence in the area of nursing leadership development. Gomes was chosen from among 25 BAYADA nursing leaders nominated for the award based on their ability to exemplify Ann Baiada's legacy to "empower, inspire, and support" those whose lives they touch through their work at BAYADA.
Learn about nursing opportunities with BAYADA Pediatrics.
Learn about nursing care at home for your child.