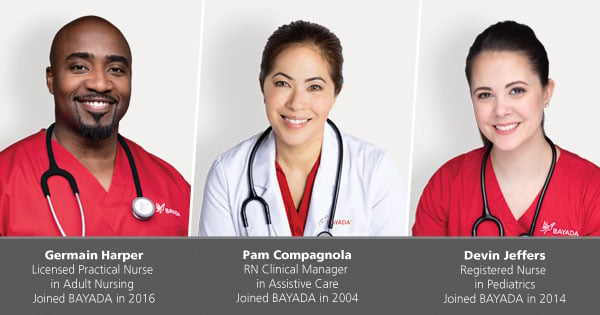 National Nurses Week, which runs from May 6-12, celebrates the great contributions of nurses to improve the health and positively impact the lives of millions of individuals across the country. BAYADA Home Health Care is celebrating the occasion, and all nurses, with its Share.Care.Dare. Nurses Week events.
"We're proud to honor all nurses during National Nurses Week 2018, for their selfless contribution to a career that is a calling," said BAYADA Chief Clinical Officer Jennifer Sheets. "During our week-long celebration, which we consider to be an exclamation point on our year-round commitment to our caregivers, we invite BAYADA Nurses and all nurses within our communities to participate in events that encourage, engage, and enrich them personally and professionally."
BAYADA's Share.Care.Dare. places nurses at the center of activities designed to help them share their passion for nursing with future RNs and LPNs, including student-aged children, recent high school and college graduates and those considering a career change; care for themselves by indulging in complimentary pampering sessions for relaxation and rejuvenation; and dare to dream and design their individualized career paths with BAYADA through training opportunities and educational support.
These events and opportunities across the country build on BAYADA's year-round commitment to its employees, which landed the company on Glassdoor's Best Places to Work 2018 list. In addition to investing in employees through competitive salary and tailored career progression, the company also supports clinicians with workflow-streaming technology such as tablets, electronic documentation, and telehealth communications.
As the first home care provider to offer nurses the opportunity to practice their skills in a clinical simulation lab, BAYADA helps to foster employees' individual growth with a variety of training and educational programs including nurse residency programs, specialization, and certifications. BAYADA also recognizes the commitment of its nurses with nearly a dozen employee recognition programs providing scholarships, incentives, and perks.
Further underscoring BAYADA's commitment to recognizing the amazing spirit of its employees, the company is celebrating Nurses Week by putting a spotlight on three nurses who embody the BAYADA core values of compassion, excellence and reliability to enrich the lives of their clients and families. BAYADA is also spending the week recognizing staff by sending leadership across the country to surprise nurses who go above and beyond for their clients.
BAYADA has launched a special webpage for Nurses Week, bayada.com/nursesweek, where visitors can find local Share.Care.Dare. events, "Thank a Nurse" publicly, listen to a special Nurses Week Spotify playlist, learn more about BAYADA's featured nurses and enter for special giveaways.