Every year, National Nurses Week is celebrated from May 6, National Nurses Day, to May 12, International Nurses Day—the birthday of Florence Nightingale, founder of modern nursing.
What is Nurses Week?
Both National Nurses Day and what has become the "Week of the Nurse" are publicly celebrated observances to show appreciation for these essential workers and to recognize the nursing profession's vital and unique contributions to health care and society at large.
As a nation and community, we have a lot to be thankful for. Nurses bring the compassionate, personal touch to medical care and often are the first and last person to care and advocate for us through all of life's transitions.
The History Behind Nurses Week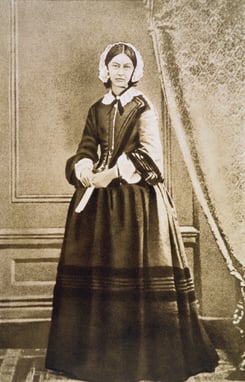 Florence Nightingale (1820-1910) was not the first nurse in history, but her philosophies and living example elevated the profession to what it has become today. In the 1850s, Nightingale took the initiative to save lives and slow the spread of cholera by improving hygiene standards in a London hospital. She then became known as "the Lady with the Lamp" on the front lines of the Crimean War, where she led a team of nurses to provide care and improve horrid conditions—personally making nightly rounds to check on wounded soldiers who had, before then, laid badly neglected.
Even though she became ill with Crimean fever in her 30s and never recovered from her disability, Nightingale continued advocating from home as an influential reformer, statistician, and international consultant known for her innovative programs to alleviate suffering, improve health conditions, and reduce rates of infection and death. In 1860, she founded a nursing school based on her principles—the early model for evidence-based nursing education today.
Why Celebrate Nurses Week
Now, nursing has become the largest health care profession in the US and one of the largest segments of our entire workforce. As a group, their integrity, compassion, and dedication are evidenced in public polls that repeatedly rank nurses as the most trusted profession in the US, known for their high ethical standards.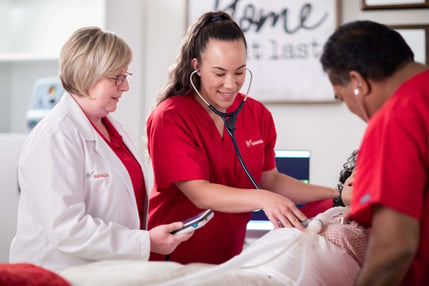 Health care professionals choose nursing for its emphasis on getting to know the whole individual and caring for their health and wellness holistically—medically, emotionally, and preventively. Nurses are known for their soothing bedside manner, relationship-building, patient and family education, and open lines of communication that hold client families and care teams together.
Specialists in their own right, nurses work collaboratively with doctors and other clinicians. They work independently and as nursing teams to provide direct care in facility, office, home and community settings and manage everything from individual care plans, safety and quality assurance, infection prevention, training and education programs up to interdisciplinary care teams and large health care systems.
In short, nurses get things done, care about people, and are the glue that holds many moving parts of the health care continuum together.
The Future of Nursing is Bright
Demand is on the rise for nurses in virtually all care settings, especially in home health care. Current trends in health care delivery measure success in terms of value and outcomes, and to improve outcomes, health care systems are emphasizing home- and community-based care services that can keep people safe, well, and out of the hospital. Nurses lead the charge to help clients recover from illness or injury, prevent complications, and manage their symptoms of chronic illness at home, where they want to be.
With lots of one-on-one time with the people they serve, home nurses are the eyes and ears that observe the day-to-day conditions that may be impacting an individual's health, such as nutrition, stress, or sanitation. More attention and investments are being given to address these factors, known as the social determinants of health (SDoH), cementing the importance of nurses to improve health outcomes into the foreseeable future.
Celebrating Nurses Week at BAYADA and Beyond
BAYADA Home Health Care, a leading non-profit home health care provider, is celebrating National Nurses Week to recognize and honor exceptional nurses for the indispensable and indefinable impact they make on all of us by gifting one nurse a much-deserved vacation experience to a destination of their choosing.
Nursing shortages have affected the nation's estimated 5.25 million nurses(i), increasing fatigue and stress in work environments. That's why for Nurses Week 2023, BAYADA is hosting a national sweepstakes on nursesweek.com to randomly select one nurse to win a $7000 home makeover*. In addition to the giveaway, you'll find career resources, self-care and wellbeing resources, free CE courses, a fun nursing quiz, and so much more.
"Nurses are the backbone of our health care system and selfless in their service to patients, going above and beyond to deliver quality care with compassion and excellence. Their inspiring work throughout the COVID-19 pandemic and beyond deserves to be honored and celebrated," said BAYADA Home Health Care CEO David Baiada. "We at BAYADA are thrilled to celebrate Nurses Week, giving nurses the recognition they deserve through a getaway of their choosing. We hope through this sweepstakes and week-long celebration, nurses will feel validated, valued, and appreciated."
BAYADA offices will also be celebrating and honoring its home health care nurses at the local level in varying ways, such as through additional raffles, free meals, special gifts, virtual events, and more. BAYADA's Nurses Week efforts are part of a larger initiative and commitment to recruit and retain nurses who share the organization's vision of delivering care with compassion, excellence, and reliability.
*Taxes, terms and conditions apply. See nursesweek.com for more details.
iSmiley, Richard A., Clark Ruttinger, Carrie M. Oliveira, Laura R. Hudson, Richard Allgeyer, Kyrani A. Reneau, Josephine H. Silvestre, and Maryann Alexander. "The 2020 National Nursing Workforce Survey." https://www.journalofnursingregulation.com/. National Council of State Boards of Nursing (NCSBN) and the National Forum of State Nursing Workforce Centers (Forum), April 1, 2021. https://www.journalofnursingregulation.com/article/S2155-8256(21)00027-2/fulltext.