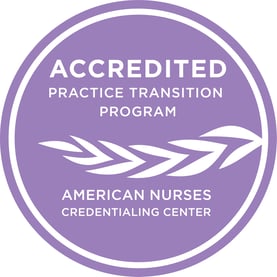 The BAYADA Home Health Care Nurse Residency Program was recently re-accredited by the American Nurses Credentialing Center (ANCC). BAYADA remains the only home care company to achieve this accreditation.
BAYADA introduced the pediatric RN Residency Program in 2014 with the goal of preparing recent nurse graduates to transition into a professional nursing role in pediatric home care. In 2017, BAYADA expanded the pediatric Residency Program to include recent licensed practical nurse (LPN) graduates. The company's adult Residency Program also began in 2017.
This is the second time BAYADA has earned accreditation, having first received this honor in 2018. "We voluntarily applied for accreditation in 2017 and 2020. The rigorous re-accreditation process involved completion of a comprehensive program self-study, nurse resident survey, and a virtual site visit with the ANCC surveyors and members," said BAYADA Director of Education, Training, and Simulation Heather Kuzara, BSN, RN, CHSE. "This process demonstrates our commitment to clinical excellence and our unwavering commitment to supporting our new graduate nurse residents by ensuring our program meets the standards set by the ANCC."
According to the ANCC, BAYADA's program strengths include the use of simulation which features computerized manikins to train new residents on caring for clients in the home setting. Another factor that led to this recognition was BAYADA's dedicated staff of clinical educators, nurse preceptors, and former nurse residents who completed the program.
The Residency Program was developed to help BAYADA care for more clients and to help recruit more nurses to fill shifts that are open as a result of the nationwide nursing shortage. "The residency program bridges the gap between the classroom and the real world, helping recent graduates develop confidence in their clinical skills and judgement, enhance their critical thinking, and refine their time management skills, all in a safe, nurturing environment," said Kuzara.
The program's features include:
A program curriculum designed by a team of expert pediatric and adult home care clinicians

Dedicated, experienced clinical educators to provide instruction and support throughout the program

An RN clinical coach who, along with the clinical manager, mentors residents and provides one-on-one support during their first year of employment.

Specially trained and experienced preceptors to facilitate on-the-job training.

Participation in clinical training on topics related to pediatric and adult home care nursing.

Clinical rotation in clients' homes.

Virtual classroom learning.

Simulation lab training using state-of-the-art manikins to mimic real-life medical emergencies.
The Nurse Residency Program accepts recent nursing school graduates with less than one year of relevant experience.
Learn about job opportunities at BAYADA >>