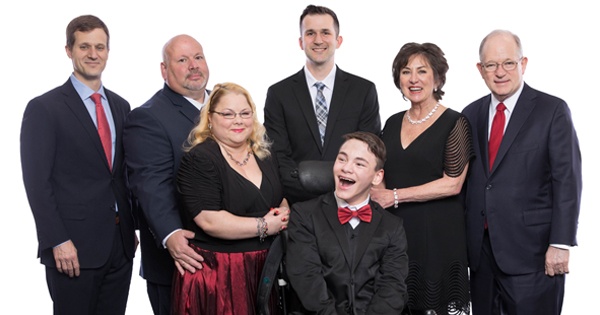 Pictured during BAYADA;s Annual Awards Weekend Hero of the Year celebration are CEO David Baiada, David Stratton, Joanne Stratton, Registered Nurse Hero of the Year Mathew Gunkel, former Director Ann Baiada, and Chairman Mark Baiada.
Mathew Gunkel, RN, was recognized as the national Registered Nurse Hero of the Year by BAYADA Home Health Care, a leading provider of in-home care. Chosen from among thousands of nominees, Gunkel accepted the prestigious award for exemplifying the highest standards of care before more than 2,000 employees at the company's annual awards meeting held on May 19 in Charlotte, NC. The award was presented by BAYADA CEO David Baiada.
"Mat is a magical mix of the ultimate professional and friend to his pediatric patients," said BAYADA Clinical Educator Chantel Denny. "He jumps in with enthusiasm and a laser focus to help his young patients reach their full potential."
Joanne and David Stratton couldn't agree more. Gunkel cares for their son Dominic, an enthusiastic 16-year old with cerebral palsy and type 1 diabetes.
"Mat gives Dominic the attention that a boy his age deserves and wants," said David Stratton, who is so grateful for the nurse who took it upon himself to attend seminars and research everything he could about his son's complex medical needs.
For Gunkel, who is quite humbled by the recognition, caring for Dominic is more than simply a job, it is a calling. "I am so happy to get up and go to work every day. It's my therapy. This job has changed my life," he said.
Indeed, some might argue that it's Gunkel who is changing lives, especially Dominic, the proud recipient of a new adaptive bike, thanks to the nurse who has become his best friend.
"Dominic went through a growth spurt," explained Gunkel. "He outgrew his stander and his gait trainer which he uses to help him walk, and he also outgrew his adaptive bike."
Insurance covered the cost to replace the stander and gait trainer but denied the request for a new adaptive bike. With a price tag of $5,000, the bike seemed hopelessly out of reach. That's when Gunkel stepped in.
"I knew I had to get him back on the bike because it helps with his spasticity," he said. "When he rides the bike, he can actually relax. When we're out there together we get to let go of everything that's going on and just be in the moment. There's nothing better."
Gunkel made it his personal mission to raise $5,000 so Dominic could start riding again. He contacted everyone he knew, as well as local businesses and TV news stations. Thanks to his relentless spirit, the donations came pouring in.
"Mat raised the money because he knew the bike was going to be beneficial for Dominic," said Joanne Stratton. "How do you thank somebody for doing that? How do you let them know how much you appreciate them? The only way I thought of trying to thank him was by nominating him for the Hero award."
BAYADA's Hero Committee took notice of Joanne's nomination. First, Gunkel was celebrated as a local Hero, then he learned he had won the divisional Hero honor. Several months later, he stood on the stage in front of the packed ballroom, his National Hero Award in his arms, expressing heartfelt appreciation for the recognition. "This is my absolute dream job," he told the crowd, which included Dominic and his parents who flew to Charlotte for the festivities. "I didn't know that jobs like this existed on the planet. It is unbelievable the inspiration I get from working with people with true adversity, and it makes me strive to be a better person. Thank you so much for this honor."
BAYADA Pediatrics provides nursing care at home and school for children from birth to adolescence with a wide range of complex medical conditions.
Established in 1999, the BAYADA Hero of the Year Program recognizes home health care professionals who consistently demonstrate the company's core values of compassion, excellence, and reliability. Each quarter, patients and peers nominate their local heroes. From the local heroes, division heroes are selected and ultimately four national heroes are chosen among five disciplines: registered nurse, licensed practical nurse, therapist, home health aide, and social worker. The four national heroes are recognized at the annual awards ceremony.