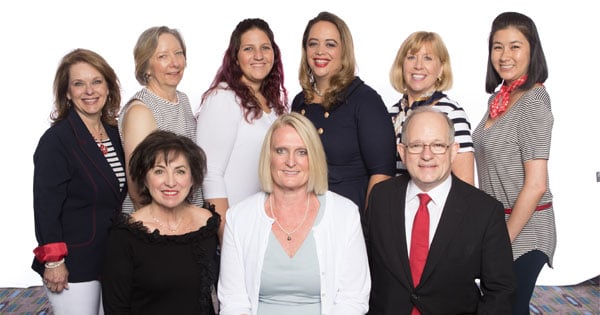 BAYADA Physical Therapy Hero of the Year Sarah Kelly (front row, center) surrounded by BAYADA President and Founder Mark Baiada (front, right), his wife Ann (front, left) and Sarah's team from the Denver-area BAYADA Home Health office (back row).
Arvada, CO resident Sarah Kelly, who holds licenses as both a physical therapist and occupational therapist, received the national Physical Therapist Hero of the Year award from BAYADA Home Health Care, a leading provider of in-home care. Kelly received this prestigious honor for exemplifying the highest standards of care and demonstrating the company's core values of compassion, excellence, and reliability. BAYADA President and Founder Mark Baiada presented Kelly with the Hero award in front of thousands of attendees during the company's annual awards ceremony on June 3 in Philadelphia, PA.
"Sarah cares deeply for her clients, many of whom are high risk and of lower socioeconomic status and have needs beyond therapy," said Channie Wright, area director of BAYADA offices in the Denver area. "She will search high and low for free equipment and has a knack for making her clients feel safe and cared for."
It's all part of the job according to Kelly. "There is a person behind that door that is depending on you every time you walk through there. You've got to be their advocate," said Kelly, who has been a BAYADA Physical Therapist in the Westminster office for four years. "There is so much dysfunction and unhappiness in this world, and if I can make a difference every day with two to three people whether it's a moment or it's going to be long-term for them, it's worth it."
According to BAYADA Rehabilitation Manager Debbie Reynolds, Kelly helps clients at home who are recovering from an acute illness, injury, or surgery by providing therapeutic exercise, balance and coordination training, and education.
"Sarah is an excellent clinician who establishes rapport with her patients very easily," explained Reynolds. "Sarah was working with a woman who had a traumatic brain injury years earlier and had recently fallen and fractured her femur. The patient's mother told me that while her daughter had more than 25 therapists over the years, Sarah was the best physical therapist to ever see her daughter. She said, 'Sarah's caring nature oozes out every time she interacts with my daughter,' which clearly made all of the difference in this family's life."
"Without Sarah in my life I'd still probably be walking like a penguin," said BAYADA patient Bill Mohney who had his leg amputated after a car accident and subsequent infection. "Before she started working with me, I wasn't sure how the prosthetic is supposed to fit or how I was supposed to walk." Now Bill entertains his visitors by dancing around the living room.
"We are so proud of Sarah for receiving this well-deserved recognition," stated Wright. "She shows compassion for her clients while also focusing keenly on quality and compliance. Sarah expects no less than excellence for herself and the office she works for which benefits all of her co-workers and the individuals who receive our care."
Watch what makes Sarah Kelly a Hero.
Established in 1999, the Hero Program recognizes care professionals who consistently demonstrate the BAYADA core values of compassion, excellence, and reliability. Each quarter, clients and peers nominate their local heroes. From the local heroes, division heroes are selected and ultimately four national heroes are chosen from among the following disciplines: registered nurse, licensed practical nurse, therapist, and home health aide or certified nursing assistant. The four national heroes are recognized at the annual awards ceremony.