Michele Puzio named BAYADA's PT Hero of the Year
BAYADA Physical Therapist Michele Puzio was recently chosen out of thousands of hopefuls as the national Physical Therapist (PT) Hero of the Year by BAYADA Home Health Care. Puzio, who works for BAYADA's New Castle Pediatrics Home Health office, was selected as a hero for her selfless dedication and commitment to her young clients and their families.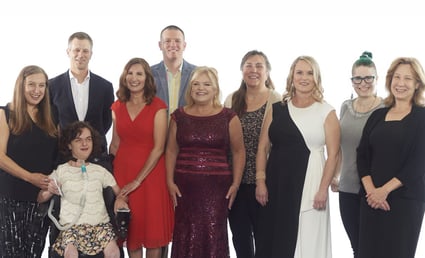 According to her nominators, Puzio—who has worked at BAYADA for the past 20 years—exemplifies The BAYADA Way, the company's philosophy for providing quality care with compassion, excellence, and reliability. Countless BAYADA clients know that with Puzio on the case, therapy is something they never have to worry about. Her "luminous smile, inspiring passion, and relentless optimism" have helped clients achieve their full potential. Just as importantly, she inspires hope, even when—or especially when—hope is hard to come by.
One example is client Marissa Guariano, who lives with cerebral palsy. Puzio has been working with Marisa for 19 years, helping her accomplish her goals. Currently, they are working towards a solution to help Marissa achieve her dream of walking up the stairs to receive her diploma at graduation.
"I don't know what she does or how she does it, but Michele knows how to reduce and alleviate Marissa's pain," said Marisa's mother Susan Guariano. "She has been a constant source of comfort and joy."
Outside of her BAYADA duties, Puzio is involved with GoBabyGo, a project started at the University of Delaware aimed at increasing mobility and improving quality of life solutions for children whose access to such may be limited during their early developmental years for a variety of reasons. At the latest GoBabyGo event, Puzio helped distributed mobility cars to nine children with varying conditions.
Puzio accepted the prestigious award for exemplifying the highest standards of care at the company's annual awards meeting held in Washington, D.C., on Saturday, May 21.
"Nothing has made me happier than my lifetime of work with my clients. It has been my absolute pleasure and privilege to help these children achieve their greatest potential. I believe that mobility is not only one of our greatest gifts, it is a human right," Puzio said as she accepted the award. "I am so proud to be a part of an organization that encourages and inspires me to be innovative in helping our children discover their independence, and the joy of living that brings."
What makes Michele Puzio a Hero
BAYADA Home Health Care Hero Program
The Hero of the Year Award is part of BAYADA's Hero Program, which allows the company to recognize and reward those who exceed the highest standards of quality care and work ethic at an office, division, and national level. Heroes can be nominated by their colleagues and clients. All BAYADA employees and clients can nominate any registered nurse, licensed practical nurse, home health aide, or other professional caregivers.