Erin Ward is BAYADA's 2023 Speech Therapist National Hero of the Year
BAYADA Speech Therapist (ST) Erin Ward was recently selected from a pool of exceptional candidates as the BAYADA 2023 Speech Therapist National Hero of the Year by BAYADA Home Health Care, a leading, national nonprofit home health care provider. Ward, who works for the BAYADA Senior Living office in Glen Burnie, MD, was selected as a Hero for her professional skill and dedication that has helped countless senior clients live their best lives with comfort, independence, and dignity.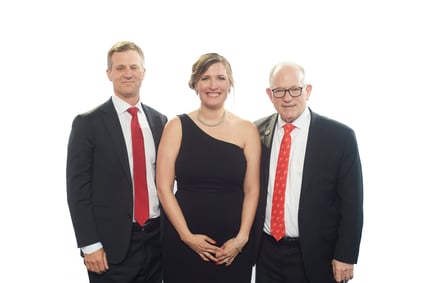 Ward has worked with BAYADA since 2014, and her practical skills and ability to assess needs and formulate effective therapies for her clients are second to none. For clients like Mary Moran, who could not eat or speak after a bout with esophageal cancer and a tracheotomy, connecting with Ward offered her a new lease on life.
"When I met Erin, I wasn't doing that great," Moran said. "I almost gave up. And she pushed me and pushed me…and she makes you fight."
As a traditional Italian matriarch, eating food is more than sustenance to Mary—it's how you connect with the ones you love the most. Ward began her therapies with Moran by focusing on basics like building up her respiratory system and eventually working on rebuilding her swallowing muscles. It was as much an application of practical knowledge as it was adapting to Moran's unique needs.
"Anyone that's watched Erin do what she's doing, it is an art," said BAYADA Program Manager Rachelle Whiteleather. "It's an art in the way that it looks effortless, but you know the time and effort that was put into all that. You can see the passion in what she does."
Though Ward is as skilled a practitioner as any you'll find, the fact she makes her passion for people her purpose is what makes all the difference for clients like Moran, who is now eating and speaking without assistance and considers Ward family.
"The clients that [Ward] cares for are vulnerable," said BAYADA Rehabilitation Manager Lisa Dumont. "To feel loved and cared about…for somebody to spend the amount of time she does with them and to see them for who they are and to love them…that's what she does."
Ward received the prestigious award at BAYADA's annual awards meeting held in Washington, DC, on Saturday, May 20.
"I do this job because I love what I do," Ward said. "So, when I found out I was nominated for this award, I was so humbled because I'm just doing what I want to do for these patients. I focus so much on what their needs and their goals are, that for the first time it feels like the tables turned, and you know, it was amazing."
What makes Erin Ward a Hero
BAYADA Home Health Care Hero Program
The National Hero of the Year Award is part of BAYADA's Hero Program, which recognizes and rewards those who exceed the highest standards of quality care and work ethic at an office, division, and national level. Heroes can be nominated by their colleagues and clients. All BAYADA employees and clients can nominate any registered nurse, licensed practical nurse, home health aide, therapist, or other professional caregivers.
Visit bayada.com for more information about home health care services, or to join BAYADA's community of compassionate caregivers apply today at jobs.bayada.com.