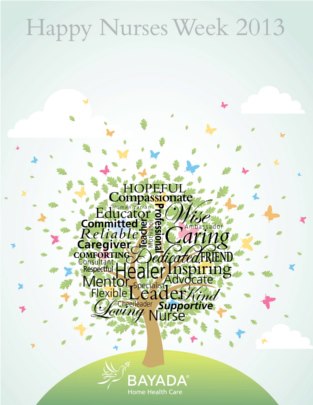 Each year, National Nurses Week focuses attention on the diverse ways America's nurses save lives and improve the health of millions of individuals. National Nurses Week begins on May 6 and ends on May 12, the birthday of Florence Nightingale, the founder of nursing as a profession.
Click to Enter the 2017 Nurses Week $500 Giftcard Giveaway!
"You bring your care and comfort to your clients in so many ways," shared BAYADA President
and Founder Mark Baiada, expressing his heartfelt gratitude to the thousands of BAYADA
Nurses who help people have a safe home life with comfort, independence, and dignity. "Thank you for inspiring all of those around you with your wisdom and compassion."
During the week-long celebration, more than 250 BAYADA offices throughout the country will shine the spotlight on their nurses by hosting festivities complete with refreshments and special gifts, pampering them with massages, and providing free educational programs to support their professional development.
These celebrations are united in the common theme of thanking the dedicated professionals whose compassion, excellence, and reliability help to keep medically fragile children, adults, and seniors in the comfort and safety of home.

"During National Nurses Week and throughout the year, a host of reward and recognition
programs bring to life our belief that our employees are our greatest asset, an integral part of our philosophy, The BAYADA Way," said Baiada. Deirdre Dutka, RN, the 2012 BAYADA National Registered Nurse Hero of the Year, couldn't agree more. Since 2009, she has provided care to a 27-year-old man who is nonverbal, unable to walk, and has cerebral palsy. Last year, Dutka took the stage in front of thousands of BAYADA employees during the company's annual awards weekend to accept her prestigious honor.

"I appreciate the recognition and I'm so thankful to work for BAYADA," Dutka humbly shared.
"It's amazing that BAYADA bestows this honor, and no matter what, I'm going to be there for my patient." Dutka was honored as part of the BAYADA Hero of the Home Front program, which recognizes nurses at the local, regional, and national level for their outstanding dedication and commitment to serving their patients. In addition, BAYADA offers mentoring programs, training, education, clinical support, scholarship programs, referral bonuses, and BAYADA Bucks, which are vouchers that can be redeemed for jewelry, electronics, and more.
Opportunities are available with BAYADA to provide meaningful, one-on-one care for children,
adults, and seniors on a full-time, part-time, or per diem basis. BAYADA offers scheduling
flexibility, along with a competitive salary and comprehensive benefits package.