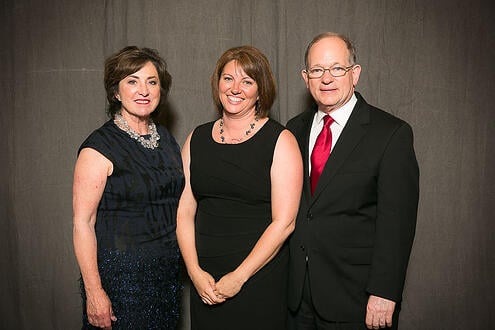 Jersey Shore, PA resident and Licensed Practical Nurse (LPN) Amber Lehman was recognized as the national LPN Hero of the Year by BAYADA Home Health Care. The exceptional care she provided for a child with Rett syndrome (RTT) and chronic respiratory failure helped the child's family through a very difficult time. Lehman's family, patient, and patient's family watched as she was honored for exemplifying the highest standards of care before more than 1,800 employees at the company's annual awards meeting in Hershey, PA on Saturday, June 8.
Lehman's pediatric patient, Carly, has respiratory issues and RTT, a nervous system disorder that leads to developmental reversals, especially in the areas of expressive language and hand use. Usually born healthy, children with RTT experience a decline in skills between 6 and 18 months old. A regression period follows, characterized by the loss of communication skills, uncontrolled hand gestures, and a slower-than-normal rate of head growth.
Often misdiagnosed as autism, cerebral palsy, or non-specific developmental delay, the disorder may also include seizures and irregular breathing patterns that occur when the child is awake. Care needs include feeding, bathing, dressing, toileting, ambulating, and administering medication.
Carly's mother, Dawn Shoemaker, remembers coming home from the hospital with a "truckload of equipment." "Nothing in life prepares you to bring home a child with every need in the world," she said. "When I'm not here, I want someone to treat her like she's a little girl and she's somebody—not just a child that sits in a wheelchair and doesn't know what's going on, because I don't believe that for a moment."
Lehman received special training on how to work with families who are in difficult situations. In March 2012, she began caring for Carly who was four years old. Kristin Beals, director of the BAYADA office from which Lehman works, said "She understood that the family was going through a grieving process because Carly's functioning had dramatically declined."
The combination of Lehman's compassion, clinical excellence, and reliability quickly built a foundation of trust with Carly's mother. "I know if Carly gets in trouble, she's going to be fine because Amber's here," she said. "It's an awesome feeling as a mom when you leave your daughter in someone else's care and know that they're going to treat her like she's their own child."
Still in shock after learning that she was chosen from among 4,000 LPNs for the LPN Hero of the Year award, Lehman explained that she is just fulfilling her passion. "I really and truly do love the children I care for with all my heart, and I want to thank BAYADA for teaching us compassion and for showing us how to care for the little kids that we all do. Without this company, I couldn't do that."
Carly's mother feels the recognition is well-deserved and had a tearful, personal message for Lehman: "Thank you so much for always treating my little girl like she is number one. It is so wonderful to have that care and compassion and love that comes through the door when you come in." Beals added, "She puts everyone else first. Although she's a mother of four, with three children under the age of five, she will travel to wherever she is needed to ensure that our pediatric clients receive the care they need. She's just a special person."
Established in 1999, the Hero on the Home Front Program recognizes care professionals who consistently demonstrate the BAYADA core values of compassion, excellence, and reliability. Each quarter, local heroes are nominated by their clients and peers, and the award recipients are honored in a local celebration. From the local heroes, division heroes are chosen. And finally, one national hero is selected for four disciplines and each of the four is recognized at the annual awards ceremony.
Watch what makes Amber a hero at http://69.164.117.227/education_heroes2013.asp.